When One Door Closes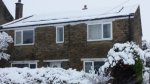 Sat, 08 Jun 2019
When One Door Closes…
Fate, predestination, random chance or just divine will; call it what you will but 1973/4 was quite a year for me.  I could have chosen quite a few so called 'pivotal turning points' in my life. Yet this particular twelve months was filled with just about everything from one August to the next and defined my life thereafter.
I was eighteen and as the saying goes 'living the dream'.  I was training in East London; Stratford to precise.  I had been railway mad since 1957 and now I was going to be a train driver. That wasn't enough though.  Since 1970 I had spent my two week summer vacation on the Ffestiniog Railway building a new track high in the Welsh mountains.  1972 saw me on a youth camp in Switzerland with the Crusaders (a Christian organisation not the warriors of the 11th Century) having applied too late for the Ffestiniog camp. So in 1973 I returned to Snowdonia as one of the Youth Leaders on that camp and was in charge of a gang of six boys aged 13 -16.  Once more I was constructing a brand new railway with the honest sweat of a navies' hard labour, and in charge of others for the first time.
We held a meeting (the Youth Leaders and the adult in charge) in the July of 73 to decide who got which boy.  During that time I felt it necessary to confess (as a Christian should) to my leader that I had slept with my then girlfriend. I knew he wasn't pleased and pretended to forgive me, but there remained an 'edge' to our relationship thereon after.  The August camp seemed to go okay despite my leader snapping at me now and then. So in the early months of 1974 I applied to lead again at the same Ffestiniog camp.  This time I was declined by the headquarters in London.  I called to ask why and it transpired that the Leader's report from the previous year deemed me unsuitable. I protested and gained the support of the local leaders at my Crusader group and was given the option to lead 11 to 13 year olds at a camp on the Isle of Wight. 
I have always been good at sulking and resentment.  My feelings toward the Leader at Ffestiniog in 1973 took years to dissipate and I brooded for several months in 1974 before phoning headquarters to decline the (second division in effect) offer of Junior Leader. I enquired if Switzerland was a goer that year and was told there were places available.  So rather than be humble I saw the opportunity to cock a snook and go to Switzerland.
Looking back I can now say the leader of 1973 had a point.  I was easily led and not strong enough in myself to lead other teenagers. I needed a few more years to mature.  1974 was to be a massive change in my life.  Whilst in Switzerland I met Angela and fell in love.  We are still in love after forty one years of marriage and four years of courtship.
Just about every aspect of my life changed.  Literally…Angela (now my fiancée) came to Bishop Stortford to college and I left St Pancras where I was driving trains to begin a new career in Sale, Greater Manchester with her parents until Angel and I married in 1978.
I was never able to look at a door slammed in my face as an opportunity, but the cast iron port cullis that barred my plan for life turned out to be the most wonderful serendipitous instant in my sixty three years of living.
Copley, County Durham, a teaching career, a wife and children I adore all followed as joyous events and all because of what seemed the end of the world in 1974.  When one door closes…