The Plastic Mariner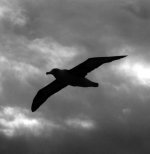 Fri, 21 Jun 2019
1 likes
Slowly we are killing
the sacred Albatross.
Not with bow and arrow,
but with plastic bags and dross.
Discarded pens and cocktail sticks,
flushed thoughtlessly to drain.
Condemning chicks to starve and rot,
'til no Albatross remain.
There is no Ancient Mariner
with bright and scary eye
A figure from an opium dream
whose warning is no lie.
Will the spirit, who loved the bird
descend upon mankind,
who killed the bird that so loved man
and steal his cursed mind.
Sending us a rotting sea
with filthy infestation.
Black and legless crawling creatures
on the shores of every nation.
Waters flooding everywhere,
but none that's fit to drink.
Our world will die upon its feet
because we didn't want to think.
And every man will have become
a bending broken wreck
with a fetid corpse of Albatross
tied around his scrawny neck.
Pray not above, for he won't come
to raise us from our grave.
Neither Mary, nor her sacred Son,
for we soiled the gift they gave.
Damned, upon a barren world,
our broken spirits cry,
'Ancient Mariner return to them
with bright and scary eye.'
Remind them of your dreaded voyage
and convince them of their fate.
If they fail to save the Albatross:
for the world, it's much too late.