Remembering
Image: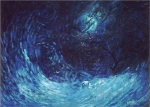 Tue, 13 Aug 2019
A song from the past can be heard from afar, gently breaking the silence,
calling into the darkness for signs of life.
Flickering close to non-existent, a tiny spark wakes from its dreamless sleep, confused by the
lilting sound rousing its senses.
As if aware that light has been found, the melody increases in volume, giving some clue
as to where it is coming from.
The spark instantly glows, making the lifelessness around it more apparent.
Where is everything? 
The uplifting song beckons it to find out, and the spark reacts instinctively, lets itself rise
towards the familiar tune.
Gleaming excitedly, rising higher, the song proves to be further away than the spark had hoped.
What is this place? Why am I here?
A succession of memories come to the spark, vivid in colour and emotion,
from joyful beginnings to disastrous end.
Blaming the song for making it remember, it cries out into the darkness,
stop! I wanted to forget!
Instead of stopping, the song is accompanied by a stream of voices; each one recognisable.
It is us, it is us.. Hear us sing, hear us sing..
The chorus warms the sparks centre. The spark, in turn, keeps opening for more,
unaware of the rate at which it risen and grown.
A great light sets amidst the singing, and revealed in the darkness are more tiny sparks,
thousands twinkling anew
Mother!
Mother!