Buyers market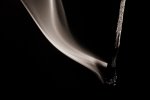 Sat, 24 Aug 2019
1 likes
(i)
Bylines ring hollow. Strike a match,
it could not light darkness at the marrow
where dreams sputter out with the loss of a Sparrow
who might have flown higher on wings of his own.
(ii)
Three wraps left to sell in Januarys bonebite hail
his clothes no longer dripped, conjoined with Winter,
crystallised in a dirty yellow glaze; an unforgiving tale.
Fingers, swollen as if long drowned, fumble with polythene
eyes pleading for another mark; only three wraps left.
 (iii)
 Blue-black, blue-black a wail of loss
louder than approach of sirens.
You and I will never know the beat of that small
feathered breast floating on the styx.