Starling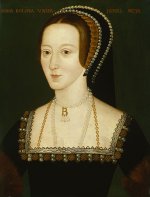 Mon, 30 Mar 2020
I think you are like Anne Boleyn;
you scold a black glance from a Rowan branch,
you guard its buds as they rupture new life
as if they were emergent insects from cocoons.
You whistle and shreep your tuneless noise,
but your feathers are an iridescence of speckles
that flirt in green and purple.
I watch you pluck a spider 
as it descends from a thread
as if it was a meal brought to your high table,
and with its dark exoskeleton clasped
in the firmness of your golden beak,
I admire your cold determination for the fodder
to deliver to your hatched blue gems
when survival is the only form of seduction.
You will roost and rejoin your flock,
to roll again under clouds moulded 
from forgotten gods, where a multitude may merge
as one rise and swell of smoke,
and hidden in your memory - the shadow of a hawk.
Image from wikimedia commons:
https://commons.m.wikimedia.org/wiki/File: