The Trouble With Breathing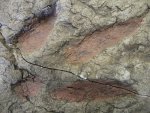 Sun, 26 Apr 2020
1 likes
Your footprints are hardened imprints
set into the tissue of my lungs,
nursed on oxygen,
nestled amongst networks of alveoli,
a trace fossil of the history
of your presence in the absence of you.
If I could reach behind my ribs
I might track the outlines with my fingers,
gather up the blooms of shame:
you were here, and here,
and here again - enough to fret
this time-smoothed scar of an impression.
This old sorrow is couched
under layers of epidermis, unseen,
its memory, a murmuration of dark matter,
a ghost of pain;
it is not heartache,
it is the trouble with breathing.
Image is from wikimedia commons of a fossilised footprint.
https://commons.m.wikimedia.org/wiki/File:Fossil_footprint,_Desert_Museu...