Canal Walk in Summer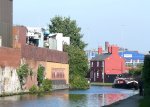 Mon, 04 May 2020
1 likes
All day, we walked on the sun-bleached path,
His army boots pounding parched yellow gravel,
The green-blue prison ink still new
To his hands. I scrambled in his shadow,
Immersed myself in him - the shapes of his body
Suspended in light, the ripples of his laughter
On the quivering slopes - pausing only
For his name carved in stone-dry bark,
The place where he drowned his childhood toys.
For fun we pitched stones through factory windows,
Heard their echoes cackling in the bellies
Of dead machines. We dreamed that
That stretch of the cut belonged to us, claimed it
In the giddy gibberish of boys. We dreamed we
Could remain in that half-way place
But, somewhere after Bordesley, we emerged
Sun-crazed at the margins of their world -
Their glimmering Rotunda, their Telecom Tower,
A thousand distant rooftops trembling.
I dreamed again, only this time alone, of him
Folding their shimmering city in his hands
To bury it in dust and sunlight, like a god.