A Mothers Love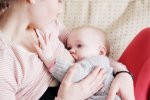 Tue, 05 May 2020
Sweet cheeked child,
perfect angel of mine.
How could anyone ever think,
you're not a miracle from divine.
As I look into your bright eyes,
Like uncluttered clear skies.
No stories to cloud the way
the wings of loves flies.
We don't need to speak,
we don't need to say anything.
Our love is perfect,
Love in its purest form.
We think ourselves so blessed,
that we get to watch you grow,
that we will be the ones,
who look at you and know…
All your delightful quirks,
the intricacies of your lovliness,
the essence of preciousness
that only you possess.
I promise you,
that I will always be here.
I'll stop what I'm doing
and lend you my ear.
As I know you're mine now,
it's only borrowed of course,
so I'll raise you my best,
then you'll be all yours.
You can be anything,
so be you and be kind.
Sweet cheeked child,
precious gem of mine.