My Worst Fear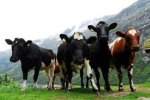 Sun, 06 Sep 2020
1 likes
I thought cows were placid
and would not hurt a fly
but I am terrified of them
and I will tell you why.
I read that twelve people
died in the last six years
trampled by angry cattle
and that's my worst fear.
I envisage going across
a green and pleasant field
then suddenly being rushed
by cows who won't yield.
I know that this panic
is irrational and absurd.
It does not seem feasible
to be maimed by a herd.
With each cow weighing
fifteen-hundred pounds
you can be guaranteed
that they stand their ground
I don't believe I'm silly,
- nor even paranoid -
If I state that bovine
are animals to avoid.
© Luigi Pagano 2020