Squash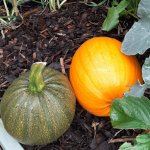 Sun, 11 Oct 2020
Mr. Whittaker, errant son of the manure magnate Roland Whittaker, walked through the gate to his allotment. 
To consider Mr. Whittaker errant may seem a stretch of the imagination when observing his sober suit, tie and wellies combination; yet errant he was.  Not choosing to follow the family into the "shit for toffs" business (as his father so distastefully put it), but instead wildly and rebelliously setting up a solicitors' firm.
Whittaker Whittaker and Whittaker.  Mr. Whittaker and no progeny (for who, indeed, would mate with him?), but instead two rather miserable, grey men who, in order to be employed by him at all, had to relinquish their surnames and become Whittaker the second and Whittaker the third.
Yet, perhaps, apples do not fall so far from the tree, for despite letting his father down badly when he went into law, Mr. Whittaker adored growing things.  Every spare moment would find him at the allotment, hands deep in soil, digging, planting and tending his vegetables.
Not a popular man by any means, Mr. Whittaker's determination and attention to detail had pushed him into the most powerful of positions: President of the Allotment Association.  The role suited him down to the ground, combining his two great interests - gardening and legal pedantry.
The inbox of many a fellow grower would shiver with cold as one of his emails landed.  Dear Mrs. Braithwaite, it has been brought to my attention you have made scant effort to bring your redcurrant bushes under control.  Under paragraph 47.3 of the allotment non-negotiables, you know this simply will not do.  Dear Miss Robotham, I understand your beans are now 1.58 m tall, when the designated limit for beanstalks is 1.5m precisely.  Tut, Miss Robotham, tut.
Although he would never have considered joining the family firm of Whittakers' Wonder Gro, Mr. Whittaker was quite prepared to use their manure.  He knew its potency and he would have been a fool not to spread it over all his growing beds.  The consequence of this decision being the easy cultivation of gargantuan vegetables.  Giant carrots, giant cabbages, giant parsnips, giant gourds.  Name a vegetable and in Mr. Whittaker's capable hands, every vegetable was humungous.
Never one for ribaldry, the innate humour present in big vegetables passed Mr. Whittaker by.  No, oo er, Missus, that's a big one, jokes.  No selfies edited so he looked tiny next to a huge cauliflower for him.  No sir, not at all.  Finding big vegetables funny (like finding videos of kittens cute) was for the general swathe of humanity and Mr. Whittaker was most certainly not part of that swathe.
On this particular autumn day as Mr. Whittaker walked through the gate and on to his allotment, he was thinking about the list of tidying jobs he was about to embark on and also about the history of the allotment's ground.  When he had first pitched his fork there, so to speak, he had conducted research to reassure himself the ground had no taint. 
Scanning local history books in the town library, he had found out the ground was good and – interestingly to him at least - where the allotments were now had been the site of a pavilion for all sorts of gatherings and parties right through the twentieth century, up until about ten years ago.  This made sense to him of the still partially visible band stand floor to the left of his potting shed that gave a useful hard surface for all manner of plant pots, and his tomatoes in the summer.
Odd though, today, after inspection of his leeks ("good boys, stand at ease") and a stiff dressing down of his broccoli ("you wasters are on a final warning.  One more wilt from you lot and you're for the compost bin"), Mr. Whittaker noticed a piece of card sticking out from the furthest edge of the band-stands hexagon.  Now, it may seem odd that this would be noticed at all, but the card was bright orange, with gold lettering on it that glinted brightly in the low, afternoon sun.
His first thought was of careless allotment neighbours, leaving litter near his plant realm; but on closer inspection, it appeared to be something far more intriguing. Although rather damp when he picked it up, the lettering and picture were very clear.  It was an invitation to a Halloween ball, from, if everything was to be believed, 1922.  The orange card, with its black cat slinking across its top, invited the recipient to join the party at the Rowberry Pavilion at 8.00 on the 31st October.  The hosts were Lenora and Kit and they assured their invited guest they would have a positively divine time.  It also explained fancy dress was an absolute requirement.
Mr. Whittaker harrumphed to himself – he hated parties and he hated fancy dress.  In fact, one of the worst nights of his life was in 1976 in a terraced house in Leeds. Sober and besuited while other trainee solicitors in togas drank Blue Nun from stainless steel goblets, he had rearranged the Tupperware in the kitchen cabinets all evening to keep himself sane.
Putting the card into his top pocket to look at later, Mr. Whittaker went into his shed, or his Centre of Operations as he liked to think of it.  Everything was in its right place – garden utensils, seed packets, cloches.  He loved these minutes, sat on the deckchair at the small camping table, contemplating what he would need to complete his jobs.
Pulling the chair out though, he realized everything was not in its right place!  On the table was a bottle of wine, dark purple showing through the glass, a handwritten label announcing Damson wine, October, 17.  Next to the bottle was a piece of paper, letting him know Mrs. B. had left it for him.  Mrs. B or Mrs. Braithwaite, that damned woman!  What was she doing entering his Centre of Operations?  She had crossed a line and that was a fact.  And to instruct him to 'enjoy' and to sign off with a kiss?!  Madness, sheer madness.
Sitting down and calming down, Mr. Whittaker softened slightly.  He was curious to know what the wine tasted like and he was rather thirsty; so taking the cup off the coffee flask he always brought to the allotment, he unscrewed (of course it would be screw top and not a cork!) the bottle and poured the wine.
Not bad, actually, he thought as the liquid, sweet autumn, glided down his gullet.  Would you like another, Mr. Whittaker?, he asked himself.  Don't mind if I do, he answered.  Drinking his second (or was it his fourth?) cup, he glanced over at the gourds and squashes lined up to ripen under the shed's window.  Was that marrow giving him the eye?  Was it flirting with him?
From somewhere close by, Mr. Whittaker heard the sound of dance music.  Wild, rhythmic music, heavy on the trumpets and trombones.  It sounded fantastic.  His toes began to tap in a way they had never tapped before. 
The pavilion party was in full, spooky swing.  A whirl of sparkle and colour – greens, purples, oranges and shadowy, glittering black.  Beautiful women in beautiful dresses decorated with pumpkins and little ghosts.  Masks everywhere, hiding eyes and giving seductive focus to smiling mouths.  Fancy dress costumes abounded – ghouls, werewolves and fearsome clowns.  The tall, pillar candles hid and revealed in equal measure – tableaus, like medieval paintings, of apple bobbing and couples kissing.  The loud man, in the corner blowing his own trumpet to a gaggle of hangers on, reminded him of his father, or of a pumpkin.  Roland Whittaker, Pumpkin Shittaker. Ha, bloody ha, ha, ha.
Mr. Whittaker woke up to the sound of sweeping.  Dry, raspy strokes on the shed floor.  For some reason, he was on the floor himself and the sweeping was happening around him.  He moved back a little to move his face away from the squashes where he seemed to be, ahem, squashed.  His wellies appeared to be off and for a reason he had no explanation for, his trousers were somewhere round his knees.  He wiped the drool off his chin and looked up to see Mrs. Braithwaite, smiling sweetly at him.
"Can I help you, Mr.  Whittaker?  Are you indisposed?  You know this simply will not do", she said.
Mr. Whittaker turned away so he did not have to look at her, noticing as he did so, the vicious grin on the outsize pumpkin in the corner of the shed.
*