Won't Get Foiled Again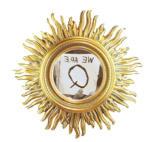 Mon, 19 Oct 2020
2 likes
We step through the modern looking glass.
'Sand is to glass as digits to internet':
we know this mirrored world
is full of eel-trap fables
and conmen's piracies.
The truth hides in the plainest sight,
the simplest text, the dullest font,
image-less and with no video;
tik-tok? Time's up
scroll down, swipe left,
x marks the spot
- top-right.
Complot-thinkers, wild hair woven
into bacofoil headgear,
spread the modern chain-letters
far beyond
two or three letterboxes
down the street.
For who knows any neighbour
living so very far away?
We lose our way,
the signposts are not just reversed,
they are multiplied
in this hall of mirrors,
made of binary choices,
disguised as algorithms.
And what is any looking glass,
but silvered-material behind
the alchemised sand?
As shiny and reflective
as the crumpled foil
on the heads of those
staring into it.