Night With Her Train Of Stars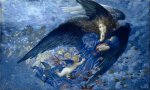 Fri, 08 Jan 2021
Each night is a little death
lost to the secrecy of sleep,
twilight beckoned
by the last larks in chorus
to the coming darkness.
Wings billowed, dusked to return
to the deep woad of bilberry
and sanctuary of bracken,
nests among the protection
of poisoned fronds
for the nourishment of rest.
To call it the West, 
a recall to the earth,
which across millennia,
our fists and feet
have pounded for answers,
only to be rewarded 
with silence. Shhh, 
putti, quiet, she says,
grief will turn to memory
as each morning 
does not forget the stars. 
 
This is another ekphrastic poem based on this painting by E R Hughes called Night with her Train of Stars. https://commons.m.wikimedia.org/wiki/File:Edward_Robert_Hughes_-_Night_with_her_Train_of_Stars_-_Google_Art_Project.jpg It is poppies that she is scattering to represent sleep and death. 
Hughes painted it in response to this poem: https://reasonandmeaning.com/2014/11/06/3356/