Heart of Snow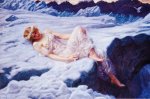 Wed, 10 Feb 2021
A snowflake has a core of dust,
gentle until it forms the cruelty of ice,
as heavy as penance. Until it travels under
the force of its own density from a corrie in cuts; 
a journey that gathers and gathers burdens,
yields children of spurs and hummocks,
pocked by suncups. 
Every glacier collects moraine as holy relics,
a history of debris as proof of life -
a frozen vehicle that is neither dead, nor silent,
but labours, sleeping, beneath its own crack
and thunder, breaking, in spite of itself,
swan-white packed to an airless blue, set
against an anthem of the spectrum of light.
It is hard to judge what is self-destruction
or reconstruction, and I have grown cold,
waiting, veins that still run with blood, now
thick as honey, but I will continue to weigh
each heart by its content, and that alone. 
 
Yes, it's another ekphrastic poem. And yes, it's a painting by E R Hughes. It's called Heart of Snow. Once again too, which is possibly why I also find his paintings so appealing, it is connected to his reading of La Beauté by Baudelaire. The painting is from here: https://commons.m.wikimedia.org/wiki/File:Edward_Robert_Hughes_-_Srdce_snehu.jpg
Also if you're interested, various translations of La Beauté. https://fleursdumal.org/poem/116
And on Twitter, I added this painting: https://commons.m.wikimedia.org/wiki/File:Bruno_Liljefors_-_Streching_swans_1915.jpg