Sooz 4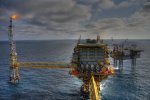 Sun, 25 Apr 2021
Groups of men stood near the walkways leading to the flight deck. Unshaven fellows with bleary eyes fooling about like young lads in thick boots and flight suits kicking a plastic bottle about. Others stood with their hands deep in their pockets, smoking as if their life depended on it. Eddie stood beside Badger, who was foot-tapping and grinding his teeth in that annoying way, blinking in the sunlight.
'For fuck sake, stop daeing that,' Eddie said.
'Whit?'  
'That.'
He had a prominent lower jaw, a slightly flattened nose and deep-set dark eyes, but the two-tone shade of his hair and the way it framed his face, as if he was peering out short-sightedly at the world that gave him the nickname badger. He was usually cheerful and unflappable and made the ideal cabin mate, but like everybody else he'd caught the fear.
Eddie sighed and lit a Kensitas Club king-size to give himself something to do with his hands. They were at the top of the rig beside the flight deck. It seemed alive sometimes, like a giant robot tethered with mucky feet to the sea bed. Close enough to taste the salt from the North Sea and breathe in the flare from the burn-off. He'd another 2000 fags in his kit bag. He could buy them for pennies on the shop in the rig and sell them for a fortune when he got home. That was always his plan. But usually he'd give a couple of hundred to his Ma. Then Nora, his wife would take her cut. That would be a thousand down. Then when he was out boozing, instead of 40 fags, he'd take 80 with him and come back his clothes smoked like an Aberdeen kipper and nothing left but douts.
This time he promised it would be different. He clutched Fatty Patty by the arm as the doll blew about as the chopper finally circled above them with a whup-whup noise that shook the filling in his teeth.
The walkways narrowed in the hurry of feet, a swinging of arms and endless elbows. This was a different kind of nervous. No one was leaving until everybody was accounted for and on the rota. The man with the clipboard was God. But pushing and shoving in their puffed up survival suits was a playground fear of the one being left behind. No matter how many trips, it always caught you low in the guts.
'Ladies first,' Eddie pushed Fatty Patty in between the men to create a gap in the trail of coloured overalls for him and Badger to stroll through. Men dragged their feet, smiling grimly at the joke, and glad of the distraction.
Men were already aboard, taking their lucky seats. Some wanted to sit behind the pilot. Others clung to window seats, looking out, and waiting for take-off.  Only when they were safely in the air and rising away from the rig could they stop hyperventilating. Stories of chopper going up and landing again. Men having to get off, because of some far off emergency, was the stuff of legend. Another week on, no joke, just choking noises.
Eddie found a seat beside Badger. Fatty Patty on his lap. She'd be alright in the ice cold water. But the North Sea took no prisoners. When a chopper went down, all the bollocks learned about kicking out windows and rolling over—inflating your survival jacket and bobbing about like a cork—worked well enough in a warm pool in the Robert Gordon Institute. Played out great, for the Health and Safety at home. A monopoly which filled up the coffers of rich investors quicker than the jackpot in the trough of a fruit machine.
Shetland islanders had it about right. They didn't teach their kids how to swim. When the fishing boat went down they didn't flail about. Quicker following a mouthful of sea and leaving your body for the fish, the crabs and birds. The weave of the cloth on your Shetland wool jumper enough to tell the family who you were.  They lived by the sea, they'd know how you died, and it wouldn't be pretty colours.
Eddie clutched Fatty Patty's wrist and looked out the window, waving the PVC arm at the flare as they tilted into the wind with only water below them. Half an hour to Dyce airport in Aberdeen.  God willing the blades kept turning.
Badger shut his eyes and sucked on his lips. Eddie could never tell if he was praying.  'You sleeping?'
'Aye,' muttered Badger.
'If I get pulled in at the airport, can I say half these fags are yours?'
Badger blinked open his eyes. 'Suppose, or you could say they're Patty's?'
'I was meaning to talk to yeh, about that.'
'Whit?'
'Nothing.' Eddie noticed the guy in the seat in front of them was ear-wigging. 'I'll tell you later.'
When the chopper landed the men scrambled to get off, picking up their bags, pushing and shoving.
'Hey, Dickwad,' shouted a stock fellow with a moustache, at the pilot after landing. 'I could kiss you, but you're such an ugly cunt.'
'Funny you should say that,' the pilot pushed his earmuffs down over his neck. 'I was thinking the same thing…Not.'
Joshing voices, they laughed at each other and hurried into the concourse in the airport, lighter than air.
Badger was standing at the bar at the bottom of Union Street. It was near the station, and big enough to hold a crowd. He ordered three pints and three whiskies, but moaned to the barmaid about short-measure, fifth of a gill in Aberdeen. He was dressed in his civilian clothes, open-necked red shirt and acrylic trousers with shiny black shoes. A man in a nylon suit pretending he wasn't nearing thirty, by dressing as a forty-year old with a fancy chunky watch.
Eddie came back from the toilet; his hair slicked back and still wet looking. Fatty Patty was propped up on the bar stool between them. Some of the lads had nipped down to the docks for a piece of the action where the prostitutes worked, but most of the others heading home to Glasgow crowded in behind them. Throwing money in the puggy machines and even more behind the bar. The bass from the speakers making it difficult to hear each other, and fag smoke nipping at their eyes.
'Whit did you get three whiskey and pints for?' Eddie asked. 'You feeling the drouth?'
'Nah, one for Patty,' Badger smirked.
Doyle, who thought himself a bit of a ladies' man because he'd his own hair and teeth, and owned a purple BMW, laughed like he'd been let out of school early. When he bought a round up for his crew, he added a drink for Patty too. He clinked his bottled beer against her vodka tops.
'Get your big fat lips around that, yah fucker,' he screamed, giving the barmaid the gladeye and inviting her to laugh at his antics. 'She's nearly as fat as you,' he quipped.
Eddie leaned in on him. 'Keep it down a bit, will yeh?'
'Or whit?' Doyle drew himself up to his full height of six-foot-four.
A wink from Eddie to the crowd behind him and he picked up a double vodka and clinked his glass against Doyle's Budweiser, before flinging it back in a oner and blowing out his cheeks. 'Or Patty willnae be pleased'.   
He laughed at his own joke and handed Doyle a double whisky from the drinks piled at the bar in front of Patty, but it didn't make a dent in it.
'I don't drink whisky,' Doyle said.
'Patty said, you dae noo.'
Doyle put it to his lips, scrunched his face before flinging it back. Eddie started picking up the drinks from the bar and handing them around. 'Patty said you should drink this,' got them going and flinging back the halfs as they battered through several more rounds.
Badger spun an empty glass on the bar with a finger, until the barmaid took it away. He'd a cigarette in his mouth and two burning in the ashtrays. 'I think I'll get a tattoo wae Patsy name on it.' He rolled up his sleeve to peer at his elbow in puzzlement.
'Great idea,' shouted Doyle. 'I'm getting one tae. Here's tae us.' He lifted a glass and swayed sideways into a gaggle of lip-glossed girls in high heels.
Doyle apologised by buying them all a drink and staring at their breasts. 'You in Bananarama?' he asked the girl nearest him.
She shook her head, and stepped closer to her pals, taking sips from a cocktail through a red straw. 'I don't know what Bananaramma is, is it a drink?'
'The young team,' said Badger, smiling indulgently into the froth in his glass. 'Time we were off to get the train anyway. And we'll need to get a carry-oot.'
'Fatty Patty is the best looking bird here.' Eddie danced her from the seat in among the young team with a drink in his hand. 'I miss my wife,' he admitted, high-fiving the tallest and prettiest girl who ground her hips against him. Her mates put down their bags and drinks and grabbed at his arm to get his attention.
Fatty Patty bobbled up and down among them as if she was going to take off.
'You know Fatty Patty is a registered nurse,' declared Eddie, drinking in their perfume as they surrounded him.  'But no mouth to mouth, until I show you first.'