We're not in Kansas anymore!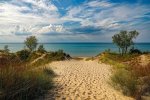 Mon, 24 May 2021
1 likes
She sat idly, smelling the freshly mown grass in the air, a well-read book on her knee. She had never been so depressed. She had 1 hour out of her day to do this because covid was rampant in the psychiatric hospital she currently resided in. She closed her eyes and lay on the soggy ground, a white, rough, hospital towel separating them, and was pondering how the rest of the world was turning. 'Is it as turbulent as mine?' She wondered whilst staring up at the bright blue sky, the sun beaming down on her. She felt her face was wet. 'Oh no!' she thought with surprise, 'it's raining!'. She sat up with a start, knocking over her book, and wiped what conspired to be tears off her face with her sleeve. 'Uh-oh!' she thought, 'I'm crying again!' which is something she was not used to. She wasn't one to cry. She usually felt like her eyes were like a dessert, full of sand.
She looked at her watch. It was 14:27. 'ok,' she thought sarcastically, 'only another thirty-three minutes in this beautiful, green, garden.' She lay back down on the soggy towel and closed her eyes. She felt the sun on her skin and heard the seagulls cackle from the building behind her. She was transported to a time when she was on the crowded beach in her seaside town. She could smell the saltiness of the waves as they crashed against the adjacent rocks. She could hear the laughter of her cousins playing on the sand as their mothers warned them not to get too close to the water.
She was taken out of her trance immediately when she felt a tap, tap, tap on her shoulder. It was one of the health care assistants. 'It's time to go in now,' they said. 'I have thirty-three minutes left!' she replied and then looked at her watch. 'I had thirty-three minutes left!' she corrected herself with a grimace. In fact, she had gone over her allotted time by ten minutes. 'C'mon and I'll walk you in!' the health care assistant smiled, 'you fell asleep.'
As she got up from the freshly mown soggy grass and picked up her book and towel, she looked around and orientated herself. In place of the sunny seaside was a walled in garden that you could only access with a key. The health care assistant swiped her key against the electrical keypad. When the keypad turned green three times the door opened and she said to herself, 'we're not in Kansas anymore,' took a deep breath in and entered the old, listed building.