The one that got away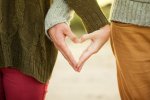 Sat, 29 May 2021
When I was fifteen, instead of drinking cheap alcohol behind the community centre, or smoking weed in the shed next to the school, I was at home, in agony. I have a condition called fibromyalgia, its arthritis in the muscles. I was stuck between my bed and the brown leather sofa, in the mint green sitting room, for seven years. It got to a stage where I was spoon fed mashed potato and creamed rice pudding by my mother, because it was too painful to move my jaw. It was dark times for me, times I never want to relive. Whilst being physically sick, I got mentally ill also. Yet, but for all of the struggles I have endured, I wouldn't have survived, and in my thirties, well, that is when the magic happened.
It was the year 2018, the weather had gotten cold, so cold that the 'beast from the east' showed its ugly head. Mountains upon mountains of snow fell, along with my heart. It was the year I met Jacqui. I have always known I was gay, but never admitted it to anyone because I didn't want to be a disappointment or let anyone down, however, this was my time.
Jacqui was the most beautiful woman I had ever seen. When I first laid eyes on her, everything went in slow motion, like in the movies. There was a light shining down on her, highlighting her beauty, and I could hear the violins as she brushed the hair off her face with the back of her hand. She had a square jaw, with soft features and kind, deep brown eyes. Whilst trying not to be obvious, I couldn't stop looking at her. For days this went on and I didn't know she had even noticed me.  We were both working through something and were both inpatients in a mental health hospital at the time. This made things tricky because there is a rule that you cannot date fellow service users.
A few days after I had set my eyes on Jacqui, I was having a cup of tea in the common area when my heart started racing and there were beads of sweat on my brow. She spoke to me. In a thick Kerry accent, she asked me how I was getting on, and then I heard it, the most beautiful way anyone has ever said my name. I went to say something, but no words would come out. I felt like I had been eating sand my mouth was so dry, so I had a sip of my tea, and cleared my throat and that's how it started, love.
As the days went by, the weather had gotten worse, and Jacqui and I were getting closer and closer. I had never had feelings for someone like that before. We were in the sitting room watching a movie on the couch, when she noticed I was shivering. She told me to hang on and went to get the duvet off her bed, which she then wrapped the two of us up in. I felt her hand touch against mine. I looked at her, her gaze not moving from the direction of the tv, yet she was smiling. I grabbed her hand and didn't let go until we were ordered to bed by the nurse. Had I had it my way, I would have slept there, my hand in hers, for eternity.
A couple of days turned into a couple of weeks, weeks we were happy, we were in love. It was never said but I could see it in her eyes, and she could see it in mine. After Jacqui was discharged, I was moved to another ward, a locked ward, where I wasn't allowed on the grounds of the property or visits from other patients. Luckily, because she had been discharged, she was technically allowed in to visit me.
Every day for the next three weeks, after work Jacqui and I spent our evenings together. On the weekends she would come in the morning and leave when they kicked her out at ten o clock. She brought me in 3D light up jigsaw puzzles which we made together. We watched movies, and binge watched tv shows. We snuggled on the bed, careful not to do anything more, because I was getting checked on every half hour. There were days when I was going through hell and would ring her, and half an hour later she would show up with ice cream to cheer me up.
We laughed, we cried, we created a bond that I thought was never going to break, yet I was in a bubble, and bubbles burst. After I was moved back to the open ward, the evening visits became sparce and the weekends disappeared. I looked her up on Facebook and she was posting intimate pictures with another woman. I was devastated. I confronted her and she convinced me that they were 'just friends,' but I knew better. After the visits stopped, she blocked my number. She had ghosted me and taken my heart.
Three years later I found out that she is now married to the woman she ghosted me for. It still hurts me to my core because Jacqui was my first love, the one that got away.