All You Need Is...?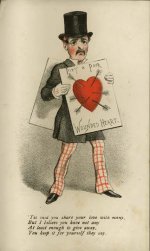 Tue, 30 Jun 2015
Shall we have a bit of love in our life?  I don't generally go in for love.  I've tried on several occasions to write love stories, but they insist in veering off onto more inviting paths: science fiction, or horror, or up their own exhaust pipe explorations of life.
It's not that I've never known love.  I'm not a trumpet blower, but I've had my share.  I had a romantic moment when a lovestruck lad got down on his knees in the middle of a family occasion and begged me not to dump him.  I had a very raunchy moment on Aberdeen beach, which sounds unlikely, but it was the long hot summer of 1976.  I had the 'Oh God, why did I wear this bra' moment in the back seat of a cinema in Guildford.  I had the bunny boiler moment when I smashed a number of his prized vinyl LPs, but then he had just walked out on me after twenty-six years, with my best friend, so fair do's.  All these moments were with different people so, you know, it's not that I haven't seen life.  It's just that when it comes to writing about love, I can't.  I just can't.
I thought I might try writing erotica.  I've read a bit, seen a bit, in one nightclub in Amsterdam I saw more than a bit.  So I sat down and had a bash. 
The problem is, when writing erotica…well, if it's going OK…you kind of get distracted.  And if it isn't distracting you, then it's not going to distract anyone else.  And if it is distracting you…do you want to publicise to the world that this is what distracts you?  Suppose they all think, 'What?'  Is it better, I wonder, to be considered a pervert near the edge of complete moral decrepitude, or a laughably naïve no-hoper with the sexual imagination of a sea bass? 
Smoothing my fins, I decided to have a go at romance. 
I'm not a big fan of modern romance stories. I like old fashioned romance – Austen, Eliot, the Brontes, Daphne du Maurier, so on and so forth.  I generally avoid romantic films – unless it's Truly, Madly, Deeply or When Harry Met Sally or Sleepless In Seattle or You've Got Mail or even, dear God, Marley and Me.  I thought Titanic was technically brilliant, and moving because the death by drowning of hundreds of people is going to be, really.  But the romance?  He looked twelve and she looked bored.  If she'd just got in a bloody boat like she was supposed to, he'd have had that floating piece of wood all to himself and he wouldn't have had to stay in the water and freeze to death.  You can't tell me that deep down he didn't think she was a right pain in the arse. 'Get in the boat, Rose.  Rose, get in the boat…'
I read a bit of modern romance and discovered that I was right back with erotica.  Modern romance does not stop at the bedroom door, or the bed, or necessarily at the orifice.  Austen it is not.  And the shopping.  What's with all the shopping?  Especially in those shoes.  A slipped disc does nothing for erotic activity.
I've tried wistful.  I've tried kooky.  I've tried too old, I've tried too young (as in sweetly too young, not the other kind, although I did admire Lolita as a piece of post-modernism, despite finding it problematic, and it can't be blamed for what popular culture made it stand for, and is this an exhaust pipe I see before me?).  Is it that I no longer believe in romantic love, or erotic love, as a concept?  No, because I do.  I still have my musings, and my distractions.  Am I just too shy to write love stories?
There's a whole market out there for love stories, and I eye it up hungrily every now and again, put Frank Sinatra's Talk to Me on Media Player, and will my fingers to seek out the keys of passion and seduction.  And instead I come up with a bit of jollity, or a bit of an oddity, and switch to Sinatra's version of Old MacDonald Had A Farm, which is so politically incorrect I shan't even apologise.
I'm determined to crack the love story business.  It may not involve a wedding, at least not between two members of the same species, and it may be wrapped in tongue-in-cheekery or use six words where one would do.  It will probably park a decent distance from any orifice and there will not be any shopping.  But A will fall in love with B, and there will be a consequence.  Some day, my Muse will come.