Heroes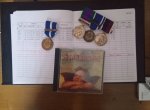 Mon, 08 Nov 2021
1 likes
How did it happen? I took the Queen's shilling in 1982, aged 21 – almost. That meant that most people I knew in County Durham couldn't decide if I was one of Maggie's stormtroopers or following in the footsteps of our brave lads who fought in what they still called 'The War.' That war had been over almost 40 years. Apart from some political misadventures (Korea, Suez, anyone?), active service had been limited to post-colonial bother in far outposts of the former Empire. The Cold War was on, people were camped outside Greenham. It was only given its full name in the newspapers. The RAF Police guarding the perimeter - and the "Crusties" outside - called it Greenham.
So. yes, how did it happen? That everyone's a hero now? Even me. I have the medals; too many probably. I served 23 years, 8 less than my dad. He had one medal, I have six, two of which I've never seen, as they were awarded after "demob".
It happened because the wall fell down. It happened because people finally realised that Stalin was really Jugashvili, just like The Great and Powerful Oz was Oscar Diggs behind the smoke and mirrors. The Berlin Wall did fall down - as unexpectedly as it was thrown up: Ein Volk became Ein Bundesrepublik and eventually had Eine Führerin. Good for them. But the great victory was hollow. The Soviet Union dissolved into Baltic-and-Balkan New Europeans, the same old Russia and a dozen potentially explosive -Stans.
Russia lost interest in many of their former "spheres of interest". Saddam interpreted it as carte blanche and the willing Bush Sr. led the charge into Gulf War One. Barely a dozen years later Bush Jr. sounded the trumpets of war and he and Blair led the coalition into Gulf War Two. Doubtless because God told them to do it. In between these two conflicts, the Balkans exploded into genocide, as everyone had predicted they would, on Tito's demise. And then there's one of the two original and best -Stans; Afghanistan.
That's why I've got more medals than my Dad. But I still don't understand why we're all heroes now. Is it just Terrorism? Didn't have much effect on our popularity when the IRA were blowing up Brighton, did it?
Kipling had it right,
"O it's Tommy this, an' Tommy that, an' "Tommy, go away";
But it's "Thank you, Mister Atkins",when the band begins to play,
The band begins to play, my boys, the band begins to play,
O it's "Thank you, Mister Atkins", when the band begins to play."
So I'll be remembering, come the day. I'll be wearing my poppy, but no medals. I'll also remember when we weren't heroes. I hope those who told us we weren't remember, too. And I'll be waiting for the wheel to turn, when the band stops playing for Tommy Atkins and me.
[NB: The Stackridge album in the accompanying image has this song on it. Which I used to play to cheer me up when staying in tents in desert lands.]