Oak Apple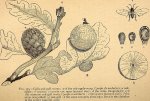 Thu, 02 Dec 2021
Poem 6 for Day 6 of National Tree Week. The Oak was on insert's list and also a request from Polly Oliver on Twitter. I thought I'd focus on the oak apple gall wasp for this one - fascinating creatures and life cycles. 
 
The oak gives sermons
to clusters of gall wasps 
who listen to the shape of leaves,
the depth of green, the music
of hormone and chemical.
The gall wasps listen -- we exist
in each other and so we exist --
from roots, wingless, to climb
our tower of bark, an egg 
for a leaf bud, the swell of larva
into its own soft ball, neither oak
nor wasp, yet being both oak and gall.
 
Image is from here: https://commons.m.wikimedia.org/wiki/File:Text-book_of_structural_and_physiological_botany_(1877)_(14796456523).jpg