An Undertaking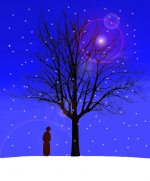 Sun, 26 Dec 2021
1 likes
Death is her business. She does it well.
She takes in the dead and lays them out. She massages them to free the rigor. She feels them
relax again under her touch. Sometimes, they sigh. An exhalation. The air escaping.
She watches the colour come back as she works - the features plump out. Like they're returning to life, she thinks. She drains them out and puts on a pad.
She washes their hair and styles it. She cleans and trims the nails - the hands and the feet. She talks to them as she does so. Things that might interest. The books she's read. The latest news. The colours of autumn. Poetry. She applies cosmetics to bring back the tone. It's an art she takes pride in. If they have dentures, she puts them back in. She stitches the lips and closes the eyes. If a tear escapes, she wipes it. Like a mother.
She dresses them in the clothes that are given. A uniform. A wedding suit. A cardigan and slippers. Favourite socks. If there aren't any clothes, she finds some herself. Comfortable things. Nothing too tight. Appropriate.
At the chapel, she waits discreetly. She's there if she's needed. She tends to them afterwards, and checks the things left. Photographs. Letters. A piece of jewellery. A packet of cigarettes, or biscuits. A poem. War medals. A bottle or can. If it's a child - a teddy bear or doll. A toy car. A favourite game. And a gift of her own. A kiss.
She looks at them and thinks of the life that was, not the death that is.
Sometimes there's nothing. Sometimes, there's no one. Only her in the world now. She's there for them. It matters not to her who they are. A touch of her hand on the brow, and she knows they're at peace. She puts on the lid and screws it down.
Death is her living.
She turns off the lights and goes home. She fixes dinner. She mixes a drink. She watches TV until late. She lays out her things for the morning. She washes her face and takes out her teeth. She undresses and slides into bed. She feels the cold of the sheets against her.
She lies in the dark, eyes open, seeing nothing.
Do they dream? she wonders.
She considers her own death, and what she'll be thinking.
I've never been to Barbados, maybe. I've never written a poem.
Or it may simply be I'm on my way now. I'm coming.
She lays her hands over the place, where a life sparked once.
She closes her eyes.
She waits for sleep.