Charity Shop Girls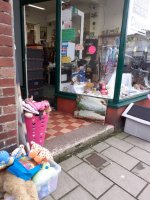 Tue, 04 Jan 2022
2 likes
None of us born in this seaside town
Laura and Moyra who work here
Claire the manager who works when she's well
Ann and I who rummage.
We talk -
Mothers
Ann cares for hers 
Laura's died last year
Mine's moving into a care home.
Pets
Claire has a new little cat
From her neighbour's cat.
'It's a dear little thing'
'I like tabbies best'
I say.
The gym
'Did you do much?' asks Ann
'45 minutes low intensity cycling with Kyra'
Ann ran the London Marathon
When she was 40.
We are all a lot older than that now!
Done better before, I'd say (and who hasn't?).
'Hello, hello, you know us by our noise'
We are the charity shop girls.