Where We Are: a personal perspective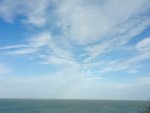 Fri, 07 Jan 2022
2 likes
Hello folks,
I'm honestly not inviting group-think. I just would be interested to know what people feel about what I have to say.
This whole Covid crisis has had an enormous impact on me. At the beginning (as a diagnosed Aspie with co-morbid ADHD and mental health issues), it sent me into a spiral of panic attacks, anxiety and depression. For a couple of weeks, I couldn't function. But then I managed to settle down as my managers at work (in social care) were happy to accommodate me and make reasonable adjustments for me that have enabled me to continue working, doing the job I love as a carer for young adults with learning and physical disabilities. This work has enabled me to carry on, and to get through. Without it, I might well have been dead by now. Notwithstanding that, I still had a burn-out last summer, and was away from work for 6 weeks. I didn't think I would return. But I did.
One other thing that has kept me going is the thought that this might be humanity's 'stop and think' moment: that it might be just the thing that was needed to make people realise that the 'normal' that most now want to return to is what actually caused the crisis in the first place. Animal exploitation, human exploitation, environmental exploitation, unrestrained and destructive globalism. I hoped that this might lead to some kind of paradigm shift. That it might make people realise that we need to change the way we do things - run our societies and our economies.
Sadly, no. All people seem to want is a return to what was. I think a major part of the problem is that Covid took away too much all at once - so people can be forgiven for wanting it all back. If you take away all of a child's toys at once, that child isn't going to want them returned piecemeal, over a long course of time. It's going to want them all back. And NOW!
So, there we have it. As huge and disruptive a thing as the Covid pandemic has been, it hasn't been enough (at least, so far) to force the changes that, in my opinion, mankind needs to make in order to safeguard the future of our planet, and the generations to come. If anything, all it's been is a bit of a wake-up call. But a wake-up call that's been put on 'doze' - until the next crisis makes the alarm go off again.
Where do we go from here? Onwards... and, I'm afraid, downwards as far as I'm concerned.
As cautious as I've been over the last two years - always wearing a mask in public, staying indoors as much as possible and only really going out to work or to shop, always maintaining social distancing rules - I nonetheless tested 'positive' yesterday, so am having to self-isolate. But in many other respects, I think that's always been the case for me. I've never been a part of the general throng. And perhaps that's why I feel so despondent now. Because, as it seems to me, no one has bothered to look at this for what it really is.
And all they now want is to go back.
One definition of insanity is doing the same thing over and over again and expecting a different result each time.
And that's precisely what seems to be happening.
Here's a quote that sums a lot of it up for me:
'For the past two years, my insides have felt like they're eating themselves. All the people I respected won't talk to me any more, except through lawyers. People want an authority to tell them how to value things, but they choose this authority not based on facts or results. They choose it because it seems authoritative and familiar. And I'm not, and never have been, familiar.'
Dr Michael J. Burry - MD, Scion Capital, 2008 - best known for being amongst the first investors to foresee the subprime mortgage crisis that occurred between 2007 and 2010, leading to the global financial meltdown.
It strikes me he could also have been talking about the pandemic. In that respect - as in his original respect - I can't help but agree.
Image: my own