She Cries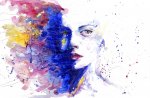 Thu, 20 Jan 2022
1 likes
Picture from Pixabay
She looks out onto the quiet suburban cluster of red brick semidetached houses and weeps. The seagulls on the roof on the house opposite gather and laugh. What has she become? She's resigned to the fact that she is more fragile than even she thought.
It all started at Christmas, a Christmas she was dreading. The season to her signified family and jolliness and she didn't feel like much of either was present at the time.
The week before the blessed day, she was in the shower and found a lump on her breast. She saw a doctor about it but nothing was done with Christmas being so close. She, having a mental health condition whereas she processes emotions differently to others, found the lump petrifying but never expressed her fear. That was the first of many troubling events that lead to this day.
She met with her father, a man she had not seen in almost two years, on the Wednesday before Christmas, something she was apprehensive of doing. His rational behind the duration between them meeting up was covid, but she knew it was because he had checked out as a dad and moved to a father. The words, although similar, had greatly different meanings. A dad is someone you pal around with and have fun, someone who you can tell your problems to and who you love unconditionally, whereas a father is what everyone on this earth requires to begin but is not necessarily present in your life.
After that awkward encounter where she looked at the face of a man who was familiar but yet a stranger, her brother wept as she handed him a card from his father, someone he hadn't seen or spoken to in five years. She couldn't tell if they were tears of joy or sadness or longing for the man who was a great dad as the pair of them were children but abandoned them for something better.
She felt as though Christmas was a chore this year. A chore as to what to buy for people, a chore to smile as loved ones opened those stabs in the dark at perfect gifts. She was tired and fed up with life in general, feeling as though Christmas was prolonged more this year compared to others.
The cherry on the top was finding out on the 26th that her brother had a positive antigen test and had covid. That ironed out in her mind why Christmas day was so miserable, he hadn't felt well.
Even though she had all of these feelings that were dragging her down, she put a brave face on and tried to act upbeat and jolly. In the back of her mind constantly was the lump. Due to its location, she only had to move and pressure was put onto it by her bra causing her discomfort. There was no way she could burden the only person she could turn to on this earth, her mom, as her brother and his care came first in her mind. This is something she regrets now.
Yes, her brother was very sick and her mom was worried and anxious over him, but she regrets not coming to her and asking for help before it reached this crisis point. She feels now that no one knows what she's feeling, but how could they when she never spoke up and verbalised it. She spends all day every day on her own apart from tv time that she shared with her mom but was not allowed make a sound during as it was 'moms time to relax'.
She feels alone and tired of pretending everything is ok and is silently dying. It's not much of a life she's living as she looks out at the seagulls, tears rolling down her face, not sure what her next move is.