Roam with me to the footbridge by the ford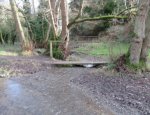 Tue, 25 Jan 2022
1 likes
A short walk from the ruined castle half-way up the hill
(–  the rain had stopped!)
up the lane to Hanway common on the Aymestry ridge ;
(cows lean out of their barn to munch their hay and stare –
take a photo, might be useful);
reach the common with vast views across the Teme valley
to Tittersone Clee, the Malverns, and the Black Mountains
(bright blue sky and white clouds now)
a house is cradled deep in the cwm below, a dip in the ridge-side.
Then cross the common, down a hedged track (part of the Mortimer Trail),
turn left across a field, and left again into woods,
down a steep muddy slippery leafy path
('Don't slip!'  … I slipped! … muddy clothes)
into a dingle with a grassy slope on one side
where a tree lies which last time we passed by
stood stark and lightening-struck grey,
now its bark gone, just crumbling deep gingery-brown, flat on the ground.
Path becomes a lane, on to which a shallow stream flows awhile:
long ford.
We wade along it, until we come to where it leaves the path
– there is a footbridge we could have used –
but we hope some of the mud has washed off our boots!
Then up through the trees to cross a field
back to the church with the grassy castle ruins rising behind.
[IP: inspired by the third from last photo you took]