Communication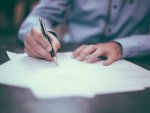 Tue, 08 Mar 2022
3 likes
I used to write letters
with a Parker pen
on sheets of paper
called Basildon Bond,
but that was then.
A writing machine
built by Remington
replaced calligraphy;
mechanised writing
became the sine qua non.
Nowadays to do that
might seem absurd;
methods have changed
and with a laptop
we can use Word.
For urgent news
once we sent a telegram
now we despatch e-mails,
the drawback being
they may be spam.
Relevance of information
is always uppermost
but if there is too much
lengthy explanation
the message can be lost.
© Luigi Pagano 2022