Angelus Novus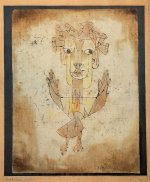 Sun, 24 Apr 2022
3 likes
If you want to know a bit more about the painting - https://en.wikipedia.org/wiki/Angelus_Novus
And this is where the image is from - https://commons.wikimedia.org/wiki/File:Klee-angelus-novus.jpg
I'm not sure about this poem - not sure about the capitisation, some dodgy punctuation and even if it entirely makes the sense that I want it to (or any sense...) so all thoughts and criticism will be much appreciated.
I am an osprey, She said, but
I am also the trout --
See how the little nibblers swim up,
dazzled by Me, know the same cloud and water
that wink their reflections in
My eyries of shell and pearl - 
both made fragments of the divine.
She lays her dragons' eggs
of dark marble, warms them
with a belly of fish,
to be cast out, once cracked,
to survive the fury of the sun.
Who does God speak to, 
She wonders, when She sleeps,
when She dreams
that the heavens hollow,
depleted, even of its stars.
And when does God sleep?
Perhaps I am God, She says,
when I am a crow,
but I am also the sheep --
See how the lambs
let Me feast upon their flesh,
give up their tender ghosts to Me.
She builds nests like churches,
mosses them, brings wool
and flowers to comfort 
Her twilight eggs, which, once
broken will be offered
to the languor of the moon.
but if I am God, where do I go
when I slumber, She ponders,
when She dreams of sorrow
and a history that returns
again to claim Her, that She is, 
in fact, no more than its puppet.