An All Too Familiar Sight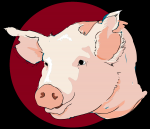 Fri, 03 Jun 2022
Behold, I have for you news.  You are lost here.  The tribe is weak.  You do not trust one another.  Not a single one.  This is the realm of cancers and cures. 
A few yards in front of the bog man, light emanated in the fog, soft pink in colour, in the shape of a sphere.   
            Someone out there with a torch? 
The light seemed to expand but in fact it was moving closer towards them, throbbing like a flying object in the films.  As it got nearer, the pink revealed itself to be animal flesh and the shape announced itself as pig.  Hilda emerged from the drifting mist not ten feet away from them and stood atop a fat mound of clabber.  She wiggled.  Her skin seemed to be covered with black maggots.  Her eyes were a kind of red.
            Bit late for a pig to be out.
            One of Moloney's hogs, I bet.
            Can't be a normal pig.  Look at the way he's looking at us.
            He's got a funny look on him alright.
            It's a demonic pig.  We're fried.
There came a sense then that all of nature had cocked its brow at them – in the mind's eye, even the bog's humbler life forms, the cob weavers, snails, snipes and pipits had closed business to point a damning stare at them, and the mud was sliming over worse than normal to try and put them off standing.           
Hilda snorted, bit a berry off a sprig and chomped it down.  Then a hind leg lifted and some air came out.  The gas sent a ripple along the marsh, buzzy tendrils flashing and waning, an all too familiar sight now. 
            Now we're for it.  The peat's charged up too.
            Well, they say it's our purest energy source.
            Is this all an apparition? 
            I'm not blind but I'm not wet behind the ears either.  There's an answer for everything.  I see bodies – physical but mad in their manifestation
            Bin your terrible humanism for a minute, please.  Will you not consider what confronts us now!  After all that's confronted us up to now.
            I'm not easily fooled.  Grab a stick someone if you can spot one lying around.  If it comes near us, I'll poke those red eyes out of its head.
            You won't touch that creature!
            Only if it comes after us.
            It doesn't look hostile.  Have you learned nothing in all the time you've been here?  As a rule, the animal kingdom deserves not only our tolerance but our reverence.
            Not a rule I ever heard.  It wasn't demanded when I came along.  I'm not a man who would turn away an old sausage, as you should well know by now.  But I suppose yous folks shacked up with Elder early on, didn't you?  The only sausage you two have gobbled, and one which I thankfully was able to avoid, is the one in Elder's trunks. 
Behold, the scourge of the earth, reputedly, in this stunted form.  Take the forgotten breath and walk.
Attentions were drawn away from the red-eyed pig when they saw movement from the bog man – it began to move slowly across towards them, hobbling, flopping, not yet reacquainted with life above ground.  The search party were stunned and didn't move.  In her momentum to flee, Imogen had been all talk, apparently willing to stroll off, caution lobbed at a wind which was in the sort of mood to spitefully hurl it back.  She leaned on Devin, for she could think of nothing else to do.  He put his arm around her and said, I have something to admit, honey.
            She turned and eyed him suspiciously.
            Funny time for it.  Is it your last words?  Don't bother.  You're not giving me any hope.  And I know it already.
            What do you know already?
            That you're not an IRA man.  That you're merely a hooligan.  It was all a lie to get into my knickers.
            I...am....have....won't...will....okay.  Take it.   I'm sorry.  I was afraid you'd run off if you found out. 
            I'd prefer it if you were a RA man, I won't lie.  But a hooligan will do. 
            What a delight.  And how will that affect...sex?  Ach, nevermind it now.  That's not what I wanted to say anyway.  No.  I wanted to say...I am hearing a voice.
            How many?
            Just one.  Why – do you hear any?
            Just one.  A whisper.  Like in the house.
Behold, I have for you news.              
            There it is again.
The bog man stopped near Hilda.  The pig rolled her head excitedly, grunting.  
            Are we all hearing that?
            It has news for us?
            Yes.
            Well, come on then, kind sir...out with it.
            Don't be too provocative.  We must respect the spirits.
            Is it him we're hearing?  Or the swine?  The pig's significantly more animated.
Behold...the gullion.  How strange and lovely the flowers that grow!  What did one expect – dust?  Bones, perhaps.  But not this.  Not this hunched and broken form.  It would have been nice to end in a cleaner room.  I know this Earth all too well now.  I have lain with its bellyworms.  But I have for you news.  From across on the other side.
            Let's hear it.
            Shh...I can't hear him with you blathering.   
            Don't blame me for your auditory shortcomings.  If you're so debilitated that you can't even hear the voices in your own head, what use are you to the world at all?