Jesus appears to John, cAD90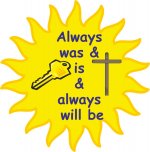 Sun, 18 Sep 2022
[Continuing the hymn-for-Sundays series]
He is, and was, and is to come,
the First and Last, the Living One,
was dead, alive now evermore
and holds the keys of death's hard door.
John, at His awesome presence shook,
His voice, was like a rushing brook,
His face as brilliant as the sun,
his words cut through all lies and sham.
And by His blood  we're fully freed
from all our sins; He loves, He'll lead.
As priests we can come near, and be
God's kingdom, serving joyfully.
Tune: LM eg Niagara by Robert Jackson, tune of ' The LORD is King!'
To him who loves us and has freed us from our sins by his blood, and has made us to be a kingdom and priests to serve his God and Father—to him be glory and power for ever and ever! Amen. … " I am the Alpha and the Omega," says the Lord God, "who is, and who was, and who is to come, the Almighty." … someone like 'a son of man'… his voice was like the sound of rushing waters. … coming out of his mouth was a sharp, double-edged sword. His face was like the sun shining in all its brilliance. When I saw him, I fell at his feet as though dead. Then he placed his right hand on me and said: "Do not be afraid. I am the First and the Last.  I am the Living One; I was dead, and now look, I am alive for ever and ever! And I hold the keys of death and Hades."  Revelation 1 : 5, 6, 8,13, 15-18