The Cockerel Crows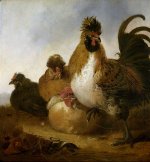 Thu, 29 Sep 2022
My skin and the echo of hands,
oh! the past has a moon of its own
that rises on its night,
that chimes the blood, ding, 
ding, that rings you like a bell.
He said he used to catch chickens,
he could grip five or six by the legs,
in one fistful, and I imagine them, 
world upturned, clutched tight, 
hearts quickened. Some ran, he said, 
and dropped dead of fright. 
 
A choir of stars, the owl's prayer,
the lurk and blink of hornywink
in the rimy ooze of the evening,
dark as tar, but wait ---
the promise of morning, light, ,
over the red clat of my birth, wait ---
the cockerel finally crows,
I will be home to myself, 
I am coming home to myself.
rimy - damp, cold 
clat - earth 
hornywink - toad 
 
Painting is from here: https://commons.m.wikimedia.org/wiki/File:Aelbert_Cuyp_Rooster.jpg