The Magic of Dust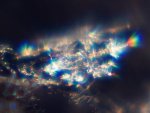 Tue, 27 Dec 2022
2 likes
A microscopic dust mote seeds a snowflake.
No matter how many there are, each
hexagonal crystal is unique we are told.
Exquisite morsels clinging together fall
to earth brightening dull winter days.
Sparkling in winter sunshine mesmerising
us into forgetting their beautiful danger.
Spread them across the universe where
dust seeds suns each believed to be unique.
Binding together in exquisite spirals of light
we view them from within on our own speck
of dust and wonder at how they highlight
snowflakes glowing on the darkest of nights.
https://commons.wikimedia.org/wiki/File:Snow_crystals_glittering_in_stro...