The Lion's Mouth - Part 1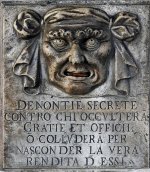 Wed, 01 Feb 2023
1 likes
The gondola should have not been there. Not at that time.
The curfew had been imposed since dusk, yet the craft, propelled by a long single oar - padded to muffle any splashing sound - proceeded slowly and silently along the Grand Canal with its illegal human cargo. Luckily there was no moonlight and the night was pitch black. It would be slow progress to reach their destination even though Fosco knew these waters like the back of his hand. It was a perilous journey with night patrols lurking on the canal banks ready to pounce on unsuspecting travellers.
It had not always been so; most citizens, with the exception of the glassblowers from Murano, had been able to move freely within and outside the Venetian enclave. This freedom would soon be enjoyed again but only for a brief respite with all restrictions lifted for the duration of the carnival celebrations.
These were troubled times. Since the unsuccessful uprising of Baiamonte Tiepolo and the Querini brothers in 1310, the aristocracy had strengthened its hold on the Serenissima, the most serene republic, and established the Council of Ten to curb the power of the Doge and of the unruly disaffected population on whom the noblemen called to realise their ambition. In fact, the poor rose to revolt only at the prompting of the ruling classes.
It was now the year of Our Lord 1355 and in addition to the internal strife, the ongoing disputes with the Genoese for the supremacy of the Black Sea trade had put a heavy burden on the City. Even now a war, the third so far, was raging between the two republics.
With any luck matters would come to an end very soon; the "Excellent Lord, by the grace of God, Doge of Venice, Duke of Dalmatia and Croatia, the most Serene Prince", currently Marino Faliero, had promised as much. Yet everybody knew that the enemy had inflicted a bloody nose to the Venetians in their latest skirmish.
Crime was also rampant. The city was divided into six sectors, called sestieri. Each had a government functionary - caposestiere - to administer it, but, perhaps more influential than his official counterpart, a representative of the underworld would also wield power and exercise an alternative form of authority.
It was a boast of Emanuele Scarpa that he and not Marino Faliero was the Doge in sestieri Castello and San Polo.
The sestieri of San Marco, Santa Croce and Cannaregio were the domain of Bartolo the Blind Man. What this man didn't know was not worth knowing. He had intelligence of events before and after they happened and this was the source of many gold ducats changing hands. He seemed to know everyone and could call on favours from many of those in power. The two main protagonists vied for the sestiere Dorsoduro which allowed control of the docks.
***
'Get down, don't make a sound' - the gondolier warned.
He had spotted in the distance the glow of lamp lights dancing in the night.
He steered his vessel to a landing stage and flattened himself next to his companion.
A group of night watchmen was approaching, but on seeing some light filtering through the shuttered windows of a locanda, the thought of a night of revelry overcame their sense of duty and they quickly gatecrashed the inn which was supposed to be closed for the day.
With a sigh of relief, Fosco realised the danger was over, for the time being at least. He still had to negotiate the narrow canals feeding off the Grand Canal towards the Fondamente, where the rendezvous had been arranged, and deliver his charge whose name he did not yet know.
The "Englishman", they had said, someone very important, who had come in secret all the way from Florence. He was in fact Sir John Hawkwood, a renowned condottiere known in Italy as Giovanni Acuto, a mercenary who had fought in England and France with his White Company before enrolling on the payroll of the Florentine republic.
During periods of inactivity he was allowed his own agenda, but his masters would have frowned had they known about the mission he had embarked upon.
The intended destination was a tavern plunged in darkness, with its windows blackened by heavy curtains so that no light should be seen from the outside. Inside a dingy smoke-filled room a young nobleman was addressing a mass of rough-looking individuals, no doubt foundry workers from Campo del Ghetto and itinerant seamen.
'My name is Guido Morosini', he said in a clear voice, 'you won't have heard of me but you may know my father Arrigo'.
Nods and murmurs of approval circulated the room; Arrigo Morosini was a pillar of the community, well respected for his charitable work and for being fair at all times in his dealing as a magistrate.
Giovanni Acuto, surveying the scene from the taproom, sensed that the name had been mentioned to give legitimacy to the cause being pursued.
He had been invited to the secret meeting to assess the situation and decide if he and his White Company could provide the backbone to the would-be rebels.
More than backbone was needed here; this rabble army seemed to have been injected with bone jelly! He had in the past joined a lot of causes but never a lost cause.
After listening to a lot of platitudes and rhetoric meant to bolster the fervour of the audience, he realised that the intended sedition was bound to fail.
Only a handful of people were paying any attention to the speaker, preferring to paw the attractive serving wenches who were being kept busy by a high demand for the local wine.
Undaunted by the lack of attention, the young man went on:
'You must realise that the current situation cannot continue. We have been subjugated by the aristocracy, we are virtual prisoners in our homes and everyone is a suspected spy. Our taxes are not used for the benefit of the community but wasted on useless conflicts.
It is time we put an end to this state of affairs. If we present a united front, our efforts will be rewarded.'
There was no doubting the young man's enthusiasm and sincerity but, while admiring the youth's courage, Giovanni Acuto saw the hopelessness of the intended enterprise and he would, in due course, make known his views to the conspirators.
The only course of action now open to him was to return immediately to the mainland through the Canal di Cannaregio and to the relative safety of his beloved Florence. He turned on his heels and ordered Fosco to depart at once. The boatman did not demur; it was not every night that he was able to earn double pay.
***
Meanwhile, in a palazzo, with its whitewashed walls faded by the sun and by the rising and receding tides, the countess Lucrezia de Monfalcone sat at her escritoire and gazed dreamily at the moon which was playing hide and seek behind St. Marks.
She had been awake for hours, unable to sleep thinking of her beloved Guido and the precarious situation in which they were involved. She thought she would put pen to paper and write him a billet-doux. She knew that he would expect a missive from her but she was reluctant to commit anything to paper. The situation was delicate and it was important that no incriminating evidence should fall into the wrong hands. She kept Guido's letter safely locked in a secret hideaway. They were mainly love letters but the more recent ones contained information that she'd rather not know. His political intrigues, as well as their romantic indiscretions, made her very fearful for his safety.
She shuddered at the thought of her husband learning about their liaison. He had powerful allies and was friendly with the Doge with whom he had participated in many expeditions against the Turks.
He had lost all desire for his wife - either because he had a younger mistress or he had become impotent - and they had been sleeping in separate rooms for a while but still under the same roof.
Lucrezia was still an attractive and concupiscent woman and could not endure her enforced celibacy.
The fly in the ointment was her spouse Rigoberto who regarded her as his chattel and would not accept any cuckoo in his nest despite neglecting his consort.
His honour and reputation would not allow it.
Lucrezia knew what the consequences of adultery would be. He had spelt it out to her several times:
'Don't even think of entertaining thoughts of impropriety and sully my good name. I would first kill your paramour and then put you in a nunnery.'
These words had the opposite effect to what was intended and, rather than restrain her passion, had stoked the fire of her sexuality.
She looked at men in a new way, gauging their attractiveness and potency and started to have lascivious ideas. Her frustration and sexual cravings were getting the better of her.
She had been perilously close to becoming promiscuous after a few casual, but discreet, affairs with visiting dignitaries. Then she had met Guido.
His understanding and love had made her revise her attitude and she was now a one-man woman, utterly devoted to him.
She could vividly recall their first meeting and the thrill that she had felt. The sight of this lissom callow youth had sent a shiver down her spine. Especially when she saw the protuberance showing inside the pouch at the front of his breeches: it didn't leave much to the imagination.
There had been no physical contact as yet but it was evident that there was alchemy between them and she had finally found the answer to transform base metal into gold.
She was going to work her magic soon.
The fortuitous encounter had happened when she had accompanied her husband on a visit to the Doge in the Palazzo Ducale. While they were engaged in affairs of state, the Doge's secretary, Guido Morosini, had been assigned to escort the Countess on a tour of the Palace.
She had asked to see the library, guessing that at that hour it would be deserted, and once inside she had come upon a copy of Boccaccio's Decameron. Just the bait that she needed. She unashamedly showed the bawdy text and illustrations to the young man who readily blushed. It occurred to her that he may be a virgin but she was not deterred and pushed him into an alcove. Taking hold of his hand, she lifted her skirt and found that there was nothing wrong with his sense of direction.
His fingers travelled smoothly up her silken calf and, on reaching the knee, found the naked flesh of her thigh.
The buttoned flap containing his expanding bulge was expertly and quickly undone by the now-aroused Countess who could not contain herself any longer. To her satisfaction, he responded with vigour. The coupling was hurried but promised well for the future.
Ten minutes later a very composed couple, engaged in polite conversation, emerged from the library and proceeded towards the Great Hall which was teeming with foreign emissaries waiting to see His Excellency.
Lucrezia nodded to the French ambassador, with whom she had once had a brief dalliance, but did not stop to talk to him. He, disappointed by a perceived snub, twirled his curly moustache and frowned but, being a diplomat, did not let his annoyance show.
***
Concurrent to the library frolics, the Count of Monfalcone was in the Doge's study confiding in his old friend. He talked of his anxiety about his sexual inadequacy and the likely effect that celibacy would have on his wife.
'She has a high carnal appetite', he said, 'and I am afraid that she will stray if not restrained. I cannot keep my eye on her for twenty-four hours but I warned her of the consequences if she does not behave.' Then he repeated the exact warning.
Marino Faliero burst out laughing.
'A nunnery, my dear Rigoberto, is the last place you would want to send her. If you only knew the debauchery and shenanigans that go on within those walls.'
He went on to explain to his horrified companion the artifices to which some religious orders got up.
'But don't worry, my friend. Leave it to me. I'll see what I can do.'
The nobleman sighed a sigh of relief and thanked his host.
'That makes me feel so much better. I would hate my name to be besmirched by her philanderings.'
© Luigi Pagano 2023