And We Move On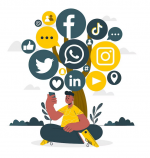 Thu, 02 Mar 2023
Earthquake to tidal-wave,
plane crash to battlefield,
woman-hunt to baby-hunt,
we scroll through calamities,
stopping only to give our opinion
and inexpert expertise
in 280 characters or much less.
This is a measure of what we know.
As the circus carries on,
all tomorrow's tragedies
are yesterday's news,
soon enough.
We watch, voyeurs of virtual realities
sent through cyberspace
to our devices,
always at hand,
never off.
And we move on.