Topolino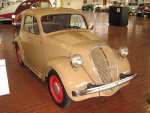 Sun, 12 Mar 2023
1 likes
An Italian mum sings
to her little bambino
a children's song
that's called Topolino
which is a translation
of Mickey Mouse
and also the name 
of the car of her spouse.
It is a small vehicle
with an engine capacity
of 500cc, to be driven
with care, not audacity.
It was built by Fiat
in 1936, though
it was only bought
nine months ago.
For this couple,
who exercised thrift,
it seemed to be
the perfect gift
The baby (conceived
on the back seat),
of the two proved
to be the better treat.
© Luigi Pagano 2023