Little Cook!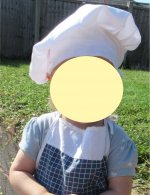 Mon, 29 May 2023
2 likes
A cock-eyed chef's hat
and a tired apron all askew,
a small wooden bowl and spoon
and a few little wooden bricks;
"What shall I cook for you ?" …
Stir, stir, stir!
"Pretend to eat it quickly …
say 'It's good , and yummy!' …
then I'll feed my rabbit and Baby …
I'm their Mummy!"
[IP: anything culinary]
Based on autobioraphical incidents, but not an exact one occasion! the photo of the equipment is from a while ago when the garments were much newer!