For The Birds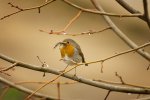 Thu, 25 May 2023
Word has come upon wings
for all comers to the garden,
the lady has left such pretty stuff
for the making of their nests.
Her tresses left by wayside
for all birds to gather.
Rather her own scissors cut it
than it cruelly fall, drab loss
to the ravages of chemo.
Ringtails and fringe,
straight and curled,
such pretty stuff.
Specially dyed for this occasion,
her gift to all winged comers,
a crowning glory of all hues,
sent out on the hopeful sky.