Forgotten Copse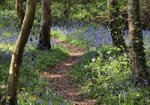 Sun, 19 Feb 2017
I stumbled on a copse we used to walk,
my mother in tow of a gaggle of little kids of different ages.
I rose early with mine on Sunday morning.
Breakfast in a bag,
a flask of tea,
excited to take them on the walk I took
when I was full of life, like them.
The entry stirred familiarity...
an old friend perhaps,
Is that you? Just recognisable.
If I come back in a few weeks,
I thought,
the path would be ablaze with blue,
shaded forest blooms,
I vowed I would.
We followed the chatter of birds,
a meandering path of skittish squirrels 
and the intermittent percussion 
of a woodpecker somewhere high.
I knew this path. 
I heard distant sounds 
of the children laugh,
running in the dappled sun,
playing games of hide and seek,
monsters and treasures
in secret gaps in shrubs,
scuffed knees and rosy cheeks.
The path, I knew, ended at a field,
rough golden grass - our secret picnic place.
I saw it clearly,
felt the hot sun on bare arms
despite the bite of winters cold through my coat 
and the chill of breezy morning air.
Looking ahead, 
we're coming to the end 
and there instead,
like a boasting beast, standing smug,
is not a swirl of childhood memories,
all golds and wispy clouds across a sea of blue...
Houses. 
Houses crammed crazily close
squashed together, 
cars side by side, a road, 
no plant life.
Land sold off. 
I never knew. 
The sounds of the children laughing,
the calls of my mother,
her smile,
all faded in the face of a neat estate.
Disappointed, we walked back,
pointing out the nests, and birds,
the sticks and stones and this and that.
I'll find another copse, another field of gold
paint memories in my children's minds,
give them treasures for their hearts
to hold
and have to hope it won't be trashed 
for cheaper housing.