Tower of Strength (IP) Part 4 of 4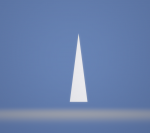 Fri, 26 Apr 2019
Mrs Brenton stood rigid, locked into her position before the figure.  'You promised,' she whispered through clenched and aching teeth.  'You promised no-one would be hurt.  You promised.'
    It took them a few seconds to realise the metallic clawing had ceased, the air was still, and the sky above them had returned to bright blue, with small, white, scudding clouds.  In front of them there was nothing but fragments of the Tower, twinkling in the sunlight.  A bird chirped, and after a few more seconds there was the sound of pounding feet as the police officers raced towards them.
    When they finally got hold of Giselle Murray, she said she had no idea what had happened.  She'd just based her Tower on Cleopatra's Needle and stuck appropriate symbols on the sides.  The Committee, she pointed out, had chosen the location. 
    Shortly after the incident in York, other local authorities announced they'd decided to put the money towards sustainable energy projects and community services rather than Towers.  The King tweeted saying he had asked the Prime Minister to look into overhauling the Honours System, with a view to removing anachronistic and outdated references to the Empire.  In the United States, a law creating the strictest gun control procedures in the world passed without opposition.  The UN confirmed the appointment of Greta Thunberg as Secretary General.
    Three months later, Mrs Brenton and Councillor Todd sat in the tea shop in Newgate, at the table by the window.  It was a hot summer's afternoon, the air syrupy, the cobbles dusty.  Mrs Brenton had come for a day trip this time, her sister-in-law having, in all ignorance, arranged for the spare bedroom to be decorated that week. 
    She stirred her tea.  'No more Towers of Strength, then,' she said.
    'No.'  Councillor Todd contemplated his Fat Rascal.  'The King feels that resources are better put into youth and community projects, looking towards the future.'
    Mrs Brenton smiled.  'It kept its promise.'
    Her brother sighed.  'Did it?  I mean, did any of that really happen?  They're saying it was all a bit of performance art got out of hand, and I think they might be right. People do get up to some very strange things. Mollie and I saw the weirdest do when we went to Tate Modern.'
    'You can believe what you like,' said Mrs Brenton.  'I know what I saw.  I know what I felt.  I know how much things have changed over the last few months.  Look around you.'  She glanced at the other tables.  'Doesn't everyone look a lot happier?'
    'It's summer,' said Councillor Todd.  'People always look happier in the summer.'
    Mrs Brenton raised her eyebrows.  'I think you're jealous because it was my idea.'
    'What was?'
    'What to do with the Strength.'
    'As an officer of the Council,' said Councillor Todd, 'I was the one who made it happen.'
    'I thought you said it was all performance art?'
    Councillor Todd looked cross.
    Mrs Brenton gazed out of the window.  'I wonder where it went,' she mused.  'I wonder where it is now.  I wonder…' she glanced at her brother.  'I wonder what else there is, what else we might set free by accident.'
    'There's nothing,' said Councillor Todd, with determination.  'Nothing to be set free by accident or design.'  He brightened.  'Talking of design, have you heard about the King's latest scheme for youth engagement?  He wants local authorities to find talented youngsters and give them a chance to pitch to potential sponsors. They can ask for funding for courses or start-up fees or whatever else they need to get their life's ambition off the ground.  A sort of Dragon's Den with a point.' Councillor Todd beamed.  'The Platform of Desire, he's calling it.'
    'Is he really?' said Mrs Brenton, giving her tea another stir. 'Desire, eh?  Oh well. I'll look forward to that one.'