Walk In The Park With Snow (Part 1 of 2)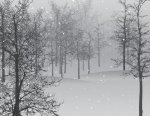 Mon, 28 Jan 2019
   One early evening, three weeks after Christmas, a young woman was walking briskly through a municipal park in one of England's ancient cities.  She wore jeans, black walking boots, a red lightweight thermal jacket and a black bobble hat.  She had a small rucksack slung on her back and a striped scarf knotted round her neck.  It was only half past five, so despite the dark she was not worried about finding herself apparently alone in the park.
    The young woman had only lived in the area for two months, and the walk through the park was sometimes a pleasant alternative to her other route home along a busy main road clogged with traffic. It added about ten minutes to the journey but, after a difficult day at work, the regulated open spaces helped to clear her mind.  She hadn't yet explored all of the park, which stretched over twenty-five acres, according to Google, but she knew the route from the City entrance to the Howerton Green gate.  Today had been a particularly difficult work day so, despite the heavy snow which had fallen all the previous night and into the morning, she decided to go home that way.
    After about ten minutes she should have reached the Memorial Fountain, but by quarter to six there was no sign of it.  In the dark, the snow made it difficult to pick out paths from lawns and flowerbeds, and the whole park seemed reshaped by a smothering blanket of white.  Not all the thin iron lampposts were lit, and the glow from those that were seemed shrunken in the cold.  She came to a signpost, but the light above it was out, and snow completely obscured its two opposing arms so that she couldn't tell which said 'City Gate' and which 'Howerton Green Gate'. Even on tiptoe she couldn't reach high enough to clear them. 
    Don't be ridiculous, she told herself.  She'd been heading in the same direction since she entered the park, and while she might have strayed onto the lawn rather than the path, she would hardly have turned completely the other way round.
    She gripped the straps of her rucksack and strode on.  The temperature had dropped still further, and the cold cut through her jacket and the thermal socks inside her boots.  Freezing air scraped at her cheeks and caught her breath, almost reaching in and snatching it from her lungs. 
    She had never noticed before quite how many trees there were in the park. She recalled them being round the edges, a natural barrier inside the railings, with one large oak standing in the middle of the grass just outside the children's play area.  Now they seemed to be dotted all around her.  And she could have sworn that the path was inclining slightly upwards, when she knew perfectly well it was flat. 
    She stopped again and looked around in the feeble light from the lamposts, trying to fix her bearings.  For the first time she felt uncertain. But it was impossible to actually get lost in the main part of the park. Come in the City gate, skirt round the play park to the fountain, bear left, and the Howerton Green gate was straight ahead.
    It was, she noticed, strangely quiet.  At this time, there was usually a hum of traffic.  It must be the snow, deadening the sound.
    The trees stood, brittle and glittering despite the cloudy sky. To her left, an undulation, hardly a hill, rose smoothly under the snow.  She looked to her right.  Gentle mounds, interspersed with trees, stretched as far as she could see.
    She pulled her phone out of her pocket but the screen blinked feebly.  No signal.
    She was outside, in the middle of the park.  She had phoned from here several times over the last two months.  Hi, I'm running late, hi, shall I pick up some milk, hi, do you fancy a takeaway, I really can't be arsed cooking tonight. 
    Hi. I don't know where I am. 
    There was a sound behind her.  A gentle footfall.  A rustling of the snow.
    'Oh my God.'
    It was a deer.  Just a few feet away from her, looking at her with curiosity.  Beyond it, she could see shapes against the snow that her eyes told her were other deer while her brain said, slowly and deliberately, there are no deer in Howerton Park.
    There might be, she insisted.  You don't know what they might have somewhere in those twenty-five acres. 
    A forlorn, lonely sound arced through the air.
    Wolves?  They have wolves in Howerton Park?
    The deer tensed, shared a glance of alarm, and bounded away.  She watched as all the shapes fled to the shelter of the trees.
    She started to walk.  'There are no deer and there are no wolves.  There is a play park and a fountain and just along from the fountain there is the Howerton Green gate.  I don't know what this is, snow madness or the beginning of the flu or Andy slipping something into that last coffee as revenge, but there are no deer and there are no wolves.'
    'Boy!'
    She looked at the man almost wearily.  As far as she could see he was dressed in some sort of woollen tunic, with leggings, and a scarf wrapped round his head.  He was leaning on a thick wooden pole.  Andy, or the snow, or the flu, had certainly done a number on her.
    She couldn't see any of thin lampposts or their feeble lights.  A half-moon hung in a clear black sky dotted with tiny, frosty pinpricks.
    Perhaps it was like a skid when you were driving, or being caught in a riptide.  Go along with it.  Don't fight it.  You'll come out the other side.
    The man looked cross.  'Din' tha hear wolf?'  He had a thick accent she could barely understand.
    'Yes, I heard the wolf.'
    He frowned, as if he was finding it equally difficult to understand her.  'Din' tha think t'get indoors?'
    Half laughing, half crying, she said, 'No.  No, I didn't.  I wasn't expecting wolves near the play park.'
    The man peered at her.  'Oh.  Tha's one o' they.'  He peered more closely.  'Ar't lass?'
    'What?'
    He pointed at her.  'Thee.  Lass?'
    'Oh.  Yes.'  She felt her last grip on reality slip away.  She looked at him.  'I wonder what the fuck you are.'
    He looked disapproving and said something, of which she caught only 'women' and 'tongue'.
    She started to laugh openly.
    'Tha'll laugh t'other side,' he said, 'if wolf catches tha.'
    'So where do I go,' she gasped, 'to escape the wolf?'
    'C'mon.'  He turned and started walking, and she was not surprised to see lighted windows in a small house among the trees, nor that there were other houses, with lighted windows, where the fountain should have been.
Part Two:  https://www.abctales.com/story/airyfairy/walk-park-snow-part-2-2