MRI and I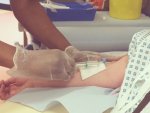 Thu, 03 Dec 2015
Got to the hospital on time for my 9am appointment, changed into a fetching rectangular blue and white checked gown and was seen promptly by a nurse who wanted me to lie flat on a very high bed because, she said, she was 20 weeks pregnant. I said, 'Look, if I stretch my arm down when sitting on this very high bed, my arm which is stretched is just the right height for you to find a vein at 20 weeks pregnant, and she agreed, but though she tried ever so hard with various needles in various places, she couldn't find a vein that worked in my right arm. So then she went to find a more senior nurse who asked me to please sit in the chair next to the very high bed because she wasn't 20 weeks pregnant. In fact many years had passed since she had last been 20 weeks pregnant and so it would be best for all concerned if I would cooperate by sitting in the nice chair provided, and though I cooperated, my veins were having none of it, and so, feeling a little exasperated, she went in search of someone more senior and even less pregnant, who would refuse to quit until they found a vein that didn't either burst or point blank, excuse the pun, refuse the needle. 
Now the reason they weren't stabbing me in my left arm was because that's the side of the trouble and affected lymph nodes. I was told that under no circumstances, would they ever use the left arm in case of possible lymph edema - which might come later after surgery to remove the lymph nodes along with the bad boob. But not finding a good vein for the canular (needed to inject a contrast dye) in my right arm, it was decided that as I hadn't yet had the nodes removed, it would be absolutely fine to stick needles in that arm, so the next person had a go, but couldn't find a vein that worked on that side, either. 
And so a Doctor was called, who arrived eventually and who tried, and tried, and tried, but couldn't get a good vein, either. 'It's the chemo,' he explained, 'your veins are all shut down.' So by 11.00am, and looking quite tired, after wiping his brow on his suit sleeve, he decided to take me for a walk down some corridors for an ultrasound scan on my arms to look at the veins and find out what, if anything, could be done that day. Oh the great rejoicing when a vessel was discovered in my left arm and the canular got in place in that hand...  'Oh happy day! (oh happy day) Oh happy day! (oh happy day) when J....' Well, you get the picture... 
And so we walked, no, fairly danced, still singing (in our hearts) back down those welcome corridors to the waiting area where John was looking a tad pale, I thought, (from hunger? ) and there we waited again till someone called me for my 25 minute scan. 
I ever so carefully got myself positioned face down on the uncomfortable bed with my boobs in the holes and let the nurses put ear phones on my head to block out, they hoped, some of the terrible noise. I thought about having music, but the choice was too great and I couldn't be arsed to decide. Besides, the head phones didn't fit - kept falling down because they were too big for the average head with ears in the usual place, and as I went to position the ear pads over my usually placed ears, at the exact moment I moved my hand, the nurse moved hers in the opposite direction, and unfortunately, considering the great trouble the doctor had gone to to get it there, RIPPED the canular clean out of my hand. 
The nurse gasped and stared, the person what does the scan gasped and stared at the blood which was by now very excited to see daylight, and as a wad of cotton was hastily pressed against my hand, I burst into unexpected sobs. 
The nurse tried to reassure me,'It's not the end of the world.... But I'm afraid you've missed your slot.' I sobbed all the harder, 'I have to have the results by Thursday when I see the surgeon,' she said, 'Oh dear! I'll see if anything can be done.'
Poor, pale John was pleasantly surprised to see me back so soon, but then disappointed when we had to wait for the doctor to do it all again, and that doctor was a very busy man it turns out. Eventually it was all done without much trouble at all, and I got out of there at 2.30pm. exhausted. So there you have it - I'm a pin cushion. But I should have the results in time for the surgeon. Thought it was Friday, but it isn't, I see him today, when more shall be revealed - literally!