Britanny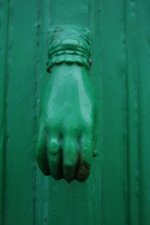 Sat, 07 Apr 2018
1 likes
'Get in the fucking house - now!"
Britanny sprang back from her place on the doorstep. Dad was running up the front path, his bike abandoned carelessly in the bushes. He was covered in blood. His t-shirt, his jeans, were glistening red; drying to brown. His hands were bloodied too: the skin of his knuckles were raw and scuffed. Was it his blood? Britanny's disbelief turned to fear. Perhaps he was hurt? Had he been hit by a car?
Dad was urgently stripping off his clothes now. Britanny noticed with relief, the smooth surface of his unblemished back.
"We'll need to put these on the fire," he said to her. Dad's eyes were wild with fear. Britanny knew for certain then, that it was someone else's blood.
…………………………………
The next day, Britanny took a walk through the woods surrounding the house. They had been renting the squat granite cottage for a few months. From the outside it looked like a sweet fairytale house, with shuttered windows and roses round the door, but the inside was pervaded by gloom. Britanny escaped outside as often as she could, leaving her dad to work at the computer, though sometimes, like today, he would go into town without her.
She had been frightened at first, by the strange soft green light and the thick silence, broken only by the crack of twigs underfoot and the sound of her own breathing, but now she spent hours exploring beneath the canopy of leaves and tall trunks. She hoped that she would meet another girl her own age there, among the trees.
"When can I start school?" Britanny asked every day and he promised it would be soon. She hadn't been to school since they left England. She had been in Year 4 then, but Britanny couldn't remember how long ago that was. They moved from place to place so often, she had lost track of time.
It was just the two of them; for as long as she could remember it had been that way. Dad would turn silent and morose whenever she asked about her mum, so she had stopped questioning him. Although on the few occasions he had shown her a photograph of a blonde lady, Britanny felt that there was nothing familiar about her. She struggled to remember being held or kissed goodnight, but the past was a frustrating blank. Britanny was blonde too. Dad made her put that smelly blue paste on her hair: to brighten it, he said. They had been doing it for so long, it didn't occur to her to question this routine. Dad would give her a rare smile afterwards and say, "just like your mum," and Britanny would glow.
Summer was bleeding into autumn now. The mornings always started misty in the basin where their house nestled amongst the trees. When they had first arrived here, the sun had burnt away the brume by midday, but now it lingered, bedewing the grass.  The damp seeped into Britanny's bones and made her melancholy. And so, this morning, Britanny determined to walk upwards towards the sunshine: through the forest, towards the clearing at the top of the hill and the open farmland beyond.
Britanny began to search for blackberries in the hedgerows at the edge of the stubbly fields. She had never seen the farmer who owned the fields, but her dad had. He muttered about the man under his breath and called him a nosy old sod. Once he'd returned from his bike ride in a boiling rage: the farmer had blocked off the path with wooden stakes. "It's a public right of way!" Dad had fumed, "I could've been impaled!" It frightened her when Dad lost his temper: his movements became jerky and unpredictable.  She was scared to take her eyes off him.
She continued her hunt for treasure in the prickly brambles: her fingers wet and red with berry juice. It made her think of Dad's hands yesterday. His frantic muttering as he scrubbed himself in the sink. The running water diluting the thick scarlet clots until it ran in clear rivulets. Later, once the sun began to set, they had doused his clothes with lighter fuel behind the house. Britanny had taken a childish delight in watching the flames lick the cotton and denim until it was charred black; and then poking at the embers with a stick.  Forgetting for a short while what had prompted the bonfire, remembering that she was still a child.
Britanny stepped forwards now into the long grass beneath the hedge, the better to reach a tantalising cache of the ripe berries. She felt something hard under her foot, hidden in the under growth, and bent down to examine it.
…………………………………
"Been blackberrying?" asked Dad later, as Britanny set down a plate of food on the table in front of him. He grabbed her smaller hand in his and examined its purple-tinted fingers. For a moment he seemed disconcerted, but seeing Britanny inquisitive look, he made his face brighten with false bonhomie.
"Where are mine?" he teased.
"Didn't have a bag to put them in," Britanny explained, retrieving a baguette from the cupboard as Dad poured himself a glass of the local cider, green and thick. A witch's brew thought Britanny.
"I spoke to the landlord today," he announced, eyeing Britanny for her reaction: a slanted look from beneath blond eyebrows.
Britanny's heart fell. She knew what was coming.
……………………………….
The movement of the car woke Britanny with a jolt.
"Fucking potholes," cursed Dad from the driver's seat.
Britanny was in the back of the car, tucked in amongst duvets and bedding. The seat next to Dad was piled high with their belongings. They had set off in the middle of the night and she was still wearing her pyjamas. Light was dawning on an unfamiliar landscape. It seemed lush and pleasant after the dark forests and barren, granite strewn moors; a patchwork of fields and hedgerows.
Britanny thought about the man's canvas shoe she'd found under the hedge while she was blackberry picking yesterday. She would never tell anyone, she decided. Its surface had been crusted a dark rusty brown. "Blood is thicker than water", she had whispered to herself, as she pushed the shoe deep into the tangled thicket of thorns, where no one could find it.
Lulled into a trance by the motion of the car and the monotony of the scenery, a picture formed briefly in Britanny's mind of another dream-like journey. A lady smiling. A baby in a car seat beside her. She had seen it before, but it returned infrequently; it seemed misty and intangible. The apparition brought with it pain and so she flicked it away, concentrating on the blond head in front of her, solid and real. The past seemed hazy and illusory to Britanny - Dad was the only family she knew. They were bound together now, their lives intertwined like brambles, and she had no choice but to go with him.
……………………
"It's what we agreed on the phone. I need to get a new motor.  Mine's fucked… and then there's petrol on top of that."
Dad and Raymond were talking business in the new house and Britanny was tired of it. She had switched off to their negotiations, just catching dull snatches, as she looked out of the window onto the garden. She hated it when Dad met up with his friends. She was disturbed by his transformation; his voice turned flat and menacing. There was something dead about the atmosphere in the room; the life sucked out of it by the two men and their suppressed anger.
Britanny felt uncomfortable under Raymond's gaze, reducing her to nothing with his cold, calculating regard. He never referred to her directly, or by name, but sat there with his camera balanced on his thigh, occasionally glancing her way.  Her stomach was in knots with the grim anticipation of what was to come. Her nerves pulsed with the tension of waiting; so that her skin, her body, felt raw and exposed. She had been through the routine many times before, but it never got any easier. She kicked her feet in a comforting motion, back and forth, lulling herself with the pendulum swing of brown lace-up shoe and white socked leg; distracting herself from the overwhelming urge to flee the room.
"Stop that!" Dad snapped, making Britanny jump.
The men rose from their place on the shabby sofa.
"Right then poppet," said Raymond, switching to unctuous mock-fatherly tones, "let's be having you."
He gestured to the adjoining room with the long black lens of his camera.
"You can leave the knee socks on - very cute."
………………………………………
Afterwards, Britanny escaped to the overgrown orchard while Dad and Raymond drank and played dominoes at the kitchen table. They loudly slapped down the pieces on the filthy surface, which was littered with bottles of beer and Calvados, fag ends and half empty glasses.
She was glad to flee to the mellow field with its apple laden trees and feel the warmth of the dying sun on her cold damp cheeks. The weight of repeated betrayal and lonely anguish was crushing her, so she sought solace in the sensations of the garden. Her throat felt sore and her mouth dry, and so she picked an apple and savored its sour tang; the juice running down her chin.
With sticky fingers, she stroked the gnarled branches and then hoisted herself up, settling amongst the leaves, in a canopy of tangled branches. The light, diffused golden-green, soothed her. She looked down from her vantage point at the rotting windfalls below, their surfaces scabbed and pockmarked with decay; the air was thick with fermentation.
Britanny heard a scramble of footfall in the undergrowth and found herself locking eyes with a fox. She and the animal froze and regarded each other warily. Britanny wished she could muffle her heartbeat and breathing - she knew that even the smallest of movements would be accompanied by the scrape of bark or rustle of leaves, breaking the silence. She wanted to enjoy the companionship of another living creature, in the cidery tranquility of their apple strewn bower. She kept him in her sight until the light faded and the blood streak of his coat dissolved in the darkness.
………………………………………
Britanny passed through the stark kitchen on her way to her room. It was harshly lit by a bare bulb: it made the men seem cadaverous. They sat in a state of lethargy - the effects of too much apple brandy having forced them to abandon their game for torpid, bad tempered bickering.
"You can have the sofa tonight Britanny – let Raymond have your bed."
Britanny nodded.
"No – I'm fine on the settee. Ladies need their beauty sleep," said Raymond quickly, with a wink in Britanny's direction.
He held her in his gaze.
"She's growing up, Alan," he said to Dad, though not taking his eyes from Britanny, "how long before she'll twig, d'you think?"
"Shut it Ray – or you're a fucking dead man."
Dad was riled now: his voice heavy with menace.
Britanny darted from the kitchen and ran upstairs to the sanctuary of her room, with its faded wallpaper and dirty mattress.
…………………………
The next day, Britanny was awoken by Dad crashing about downstairs. It sounded like he was in one of his rages. She retreated down the mattress beneath her flower-sprigged duvet. She would wait for calm before she went in search of breakfast.
Dad came in search of her first.
"That bastard Raymond's done a runner – with my fucking money!"
Dad's voice was strangulated with desperation.
"He must've taken it while I was asleep and done a flit this morning."
He ran his hands through his messy blond hair.
"I've fucking had it now."
He had the air of someone whose world was starting to unravel.
…………………………………………
Alone once more, Britanny returned to the orchard. The grass, wetted her jeans as she crept through the trees, towards the farmer's fields on the far side of the garden. The bloated corpses of windfall apples squashed beneath her feet, releasing their scent.  Like the smell that clung to Dad's breath last night, as he'd slept like the dead.
She approached the barbed wire fence. From a distance it seemed to be festooned with ragged bunting, but as she drew nearer she saw that it was strung with tattered carcasses. The bodies of dead crows and magpies hung like flags of stringy flesh and sinew. Among them hung a single fox's brush, the once proud and burnished fur, now a pathetic straggly scrap and bloodied stump.
She had slept fitfully last night, jolting awake to a tangle of thoughts, picking over Raymond's words to Dad in the kitchen. Memories had begun surfacing since they had done a flit, forming into layers of confusing images. A scant jumbled picture, but enough to make her think that there might be someone, somewhere, waiting for her. 
Dad was too preoccupied now, with his own spiraling problems, to notice Britanny. In any case, he'd gone out for a while, trying to scrape some funds together for the journey.  Britanny's heart thumped in her chest as she remembered the roll of notes she'd slipped from under his pillow. She patted their comforting bulge in her jeans' pocket. She found a gap in the fence, where the barbed wire was flattened, and stepped out over the boundary.