UV (Part 4) - i-Care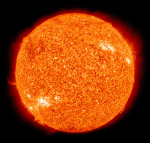 Tue, 17 Dec 2019
1 likes
Kristal sat cross legged on her bunk, thumbs working frantically at her i-Life screen. She couldn't sleep and her head buzzed like a jar of wasps, she was sick with the constant, mindless scrolling on her i-Life, but she couldn't stop, as every time she cleared a pop-up, another would appear.
Then the screen went black.  She held it closer to her face - no, not entirely black - in the centre of the screen was a white pixel.  It was blinking.  The blinking pixel became the pupil of an eye.  The eye was staring at her.  Then it winked.
"Fuck! Fuck! I've been hexed." She threw the phone into the corner of the room and it crashed against the wall. 
The crash became a repetitive knock, which caused the thin partition wall to shake.  She realised there was someone at the door.  Kristal jumped down from the bed and pressed her eye to the peep hole.  It was the Mr Lem's dogsbody, or perhaps his son, Kristal had seen him doing repairs around the building.  She opened the door a crack.
"Licht?"
"What?"
"Mr Lem said to check you're not dead.  He hasn't seen you for three days.  Most unusual."
"Unfortunately, I'm alive - as you can see."
She shut the door in his face.
He put his mouth to the keyhole and shouted, "Mr Lem says your rent is late. He wants paying." 
"Well, Mr Lem will have to wait. I'm on lockdown until tomorrow and can't work," she shouted back. 
Kristal opened the door to see his reaction.  His face remained expressionless - the answer was obviously of no interest to him.
"OK," he shrugged. "I tell him."
She shut the door and retrieved the phone, hoping the screen hadn't smashed.  It was intact, but had gone into sleep mode.  She pressed her fingertip to the sensor pad.
A tiny white cross appeared from the void, growing to fill the whole surface.  i-Life Plus - the OS you can trust!  Wondering what the "plus" was, she scrolled through the apps to see if anything looked different.  A new icon, a black heart with a white cross in its centre, had appeared.  She hovered her thumb over the icon and the word i-Care appeared in a bubble.  Oracle, what's i-Care?" she asked her device.  Oracle responded in her soothing robotic voice:  "i-Care is the new system for connecting social care to the people who need it most. Show you care and notify social care to any street sleepers in your area.  The app is directly linked to Cryptobank and 50 credits can be earned for every street sleeper reported."
No time like the present, Kristal thought to herself, sliding into her vegan leathers.  Three days on i-Life lockdown for a minor altercation with another courier, had sent her into a downward spiral of debt and debits, as her existing traffic fines earned interest for non-payment.  It wouldn't be enough to earn her usual wage this week, she needed to make extra.
She pulled up the old town on her i-Map.  The courier routes often took her through the desolation zones - those which had been designated for redevelopment as part of the new Clean Capital scheme - they would be full of rough sleepers at this time of night. First stop the obsolete Metro Station, Kristal decided.  Hopefully it would provide her with rich Crypto pickings - then she could have a full V-Meat mixed grill in the morning.  Her stomach groaned at the thought of it.
_______________
Dillon Asimov waited on the platform for the ghost train, around him snoring street sleepers huddled under rags; the forgotten ones whose home was the derelict underground railway station.  Others like him loitered, leaning against the crumbling tile work, smoking roll ups they'd exchanged with the destitutes for food smuggled from the factory canteen.  Always singly, never in a huddle; they could not be thought to be collaborating.  Nearby, a peeling map revealed forgotten place names - Lamb, Elephant, Tooting.  What had these non-existent destinations been like, he wondered.  His own train would have one stop only - the terminus - the subterranean bowels of the penitentiary, from which men like him were ghosted.  They might be awoken at any time of the night and sent off somewhere else to work; another packing plant, a laboratory, a distribution hub, a factory.  Secret, nameless destinations, which no one mentioned.  He only knew because he had been moved himself three times now and had seen some familiar faces at the new places; men who months before had waited in line with Dillon in the canteen one night and had been gone the next morning at breakfast.  They did not speak of it.
Only the guards chatted; squatting at the far end of the platform, playing cards together.  They had no need to watch the prisoners too closely.  Had anyone attempted to run, their embedded devices could immobilise them immediately and painfully.  Dillon remembered the bolt of lightning which had fried his central nervous system and blacked out his brain.  He had only tried to do so once.
At the entrance was a sudden commotion.  Homeless men arguing over tatters, he thought.  The guards looked up briefly, but these dregs were nothing to do with them, their interest was in the prisoners only - watching them was what they were paid for, not to keep order amongst these untouchables.  Dillon was interested though.  He realised that the taller homeless person was female and one of the strangest women he'd ever seen; beneath her ragged, filthy blanket she wore pleather overalls and huge biker boots, which she was now using to kick the smaller person in the shins. 
"Give me fucking blanket back," he shrieked between blows, clawing at the fabric.  "I'm just borrowing it, you demented fucking halfwit.  It's what we agreed!" she shouted, sticking the boot in once more.  "No, it ain't.  I said give me cigarettes in exchange for a lend of it, but I ain't so much had a sniff of baccy yet."  "I never said when, you moron," the woman said, giving him a shove.  "Now, show me which of this lot still have barcodes.  Here, have your stinking blanket - you've blown my cover now anyway.  The sooner you find me some people to assist with connecting to a social care provider, the sooner you'll get your packet of cigarettes." 
Dillon looked on in disbelief as she flung the blanket in the other man's face, then bent down and grabbed the arm of the nearest rough sleeper, who was fortunately near comatose from drinking moonshine out of a disinfectant bottle. The woman held her i-life device to the vagrant's wrist and it emitted a ker-ching noise, reminiscent of the slot machines of his youth. She looked up in Dillon's direction for the first time.  "Jackpot" she said to him and moved on to the next pile of rags.