passing places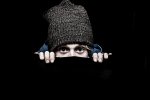 Sat, 02 Jun 2018
My sister Jo was at it again, having all her pals in. Smoking and drinking and playing records. I hid behind the chair and shot her in the back with my ray gun, while she was in the kitchen dancing on linoleum, but she just laughed. Moon-faced Janet scampered after me with clackety heels making kissy, kissing noises. Her long-limbed pals hooted. They had tits, but I wasn't allowed to say that.  Globes of brown and black and ginger hair flashed in and out of sight as I sprinted away, shooting them too.
I dived under my bed to arm myself with my Winchester rifle, for buffalo and Indians. But it didn't work right and didn't have the proper bullets. Even when I used the bow and arrow with proper suckers on the end the cat just looked at me and yawned.
I was to go to my bed and shut up. But I wasn't.  I was telling mum when she came in. Da would be angry. He was always angry.
I must have fell asleep, but it was a shivery sleep and I heard a rattling sound and realised it was me and could see the plumes of breath from the light of the lamppost outside. But it wasn't just I was cold. Something like a tarpaulin fell over me and covered up my insides.
I was inside and outside it.  I'd been caught in wire traces baited with hooks and the more I struggled the more it hurt. Scared to move, but needing to pee, I whimpered and shouted on Jo.
But although it was quiet now, she didn't hear me. I rushed into the toilet, pulling on the light and jammies down and splashing into the pan. Someone was watching me, but when I turned around they must have sloped away.
I hoped it was Susan. She was my sister's best pal, with hair the colour of wet coal and she smelled so nice. I liked to lean against her. Sometimes she'd pull me onto her knee. Large brown eyes that had been crying would study me. She'd tell that I was a heart breaker and she was going to marry me when I grew up. Then she'd hug me really hard, with her tits against me and say something about men, and who would have them. I'd wait for her to kiss me on the cheek.
It was too quiet, no records, but I could hear them whispering in the living room. I nudged the door open and looked in. No one was sitting on the lumpy couch or or the rickety bent-back chairs dragged from mum's and da's room. Two bars on the fire were on, but it was a candle that glowed under their chins and gave each face sitting in a circle a fragile beauty than entranced me and made me step forward.
Fingers fell away from the upturned empty glass they were pushing around a board.
Susan's voice was taut and high pitched. 'Well, that's that,' she said and giggled.
An uptake of breath and then my sister's pals uncurled, pulled on their shoes and searched for their cigarettes.
Their muted laughter caused a wee explosion in my head. The room swirled and air had grown dark with shadows. The smell of crushed vegetation was overbearing. Something was waiting. It gave me wild pleasure and a sense of dread, knowing and not knowing what it was.  
'I'm dying for the toilet,' Janet said. She swished past me and into the hall, her hand reaching for the light switch.
'Don't,' I said, in my most moany voice. 'I want to play too.'
She hesitated, but didn't hang about. Her broad rump disappearing and I heard the bathroom door shutting and the snib slamming into place.  
'How do you play?' I said, wandering into the living room and looking into the light of the candle, which seemed to make the room grow darker.
In the outer darkness their cigarettes made their voices husky and playful.
Hand-written letters of the alphabet seemed to be familiar as hieroglyphs. The surface of the board was black with a viscous strand that seemed tacky yet it absorbed light like wave does water. And if I looked at it too hard I'd become lost in the dampness of bottoms and streams of empty things, blending and bleeding.  
'Get to yer bed,' Jo put her hand on my shoulder.
I slapped her fingers. 'Don't,' I said. 'I want to play.'
'Yer, bloody freezing,' she said. 'Get to yer bed.'
'No,' I said. Eyes lowered, my head slumping onto my chest. Face blooming, I started greeting. 'I want to play. Please. Please. Please.'
Rowena, with the wispy feathery hair, who my sister didn't like because she thought she was something, said, 'Och, just let him play. It's stupid anyway.'
My sister's face shut like a drawer. 'No,' she said. 'He's too wee and he's tired.'
I sniffed. 'I'm no tired.'
'Well, you will be in the morning.' Jo kneaded my shoulder hard and pushed me to let me know I was to shut up.   
I stumbled and fell.  Susan picked me up and the room was hushed. Jo's pals avoided looking at her.
I limped a wee bit, pushing her away and looking at my sister. 'I want to play.'
'I said no', said Jo, and there was a rising anger in her voice.
Rowena whispered something in the girl beside hers ear and reached for her bag and coat. 'I'm going,' she said.
'Good,' said Jo, staring at her with glittering green eyes as if she was a chocolate drop she'd just spat out.
'Don't be like that,' said Rowena, her fingers searching the frills of her pockets as if she had to pay to leave.
'Look,' said Susan. 'Let's calm down a bit. Rowena sit doon and don't be so stupid.  Just let him play once. He's only a wee boy. He doesnae know whit he's daeing and then he can go to his bed.' She ruffled my hair.  'Nae harm done. And I'll tuck him in.'