February low tide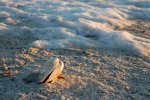 Fri, 02 Feb 2018
He comes in, rosy cheeks smooth-cool
to mine as the inside of half cockles
we used to collect on the beach
as big as his hands, then. The shells
we wanted, hinged like treasure chests
I'd cache with jewel-bright sea glass
and he with tiny perfect crabs, still
brooches torn from the cloak of sea.
"I have treasure for you!" he says proudly
sure of bringing delight, so full of it, like
we are two halves, hinged with memory.
He unslings his red rucksack and it thunks
to the carpet, and, green coat still on, bends
over, draws back the zip and with a flourish
pulls out a shell, a giant, perfect clam
a pink and white fan, wide as his hand's span
the kind that Botticelli's Venus glides in
and the ones we'd always searched for
never found. Then another, and another
in clattering decadent abundance. These
are the shells I'd looked for with my Dad
on holiday in Ireland, while there was magic
to be believed in - the mermaid shells
I'd told him of as we walked the shore
of the place we've come to, far away
from the real world. And he had found them
exploring with his best friend after school.