relay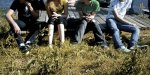 Sat, 25 Jan 2020
Almost the same length as his bed.
Taller than me since last year.
Knows more than I will.
What can I tell him?
Listen. If there are no words, wait.
Be there, keeping up.
Sprinting isn't the only way to move, though popular with crowds.
Cross Country, through sleet, feet slipping in puddles
an open hand offers balance.
The important thing is to show you care.
He thinks, shoulders easing, sits up
hugs me