1. A cup of tea. A bogey. The President.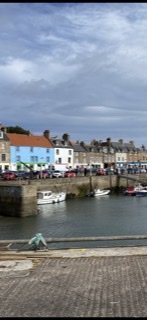 Wed, 28 Oct 2020
It is twelve o'clock in the afternoon and all is silent in Kuper's Tube, "just 18 steps from the High Street!, the place where all you postcard dreams may come true!", and in lieu of anything to do, the shop not having been visited by a single customer all day, the town of O____ having long since been off the key tourist trail, Kuper, proprietor, mortgage holder, and little lord of all he surveys, is watching the broad back of Antonio, his sole and only employee, an intensity burning in his eyes that might well have disturbed a third, non-existent, viewer.
    Kuper Kopolowski, thirty-three, (the age at which Jesus was strung up on that cross, written to himself on the only birthday card he had received), pallid of skin, slight of build, and in one of those striking twists of fate, bearing a striking resemblance to his hero, Georges Simenon, the Belgian writer of the romans durs he so admires for their stark portrayal of dark human emotions, feels once more the dull ache form around the centre of his heart. Perhaps it is time he finally do something, make a move. After all, might he not explode from the intense unspoken and unrequited feelings building up inside him, like Bogdan Dragonov, their former milkman, who had been found in multiple ragged pieces beside one of his gleaming milk pails, a thousand love letters scattered around him, written to every woman, and some men, in the town, only to be rejected, returned, by all, and, so it was said, the cause of his death, milk not usually known for its combustible qualities.
    Now I shall tell Antonio, quite simply, that I love him. That is all. He can do with it what he will…. 
    Although the decision has previously been made Kuper, cross my heart and hope to die, blanches at this ridiculous thought.
    Might it be like a sea lion asking a mermaid for her hand in marriage? What a sight they would make progressing down the aisle!
    So instead he comes up with an easier proposal, one more in keeping with the flavour of the day; they shall have a cup of tea…
    In his mind's eye he can see it, Antonio turning head forty-five degrees, brow furrowing as spies insect scurrying towards him, what does he want now?, can't this jerk see we have no customers and can't a man be left in peace to fulfil his daily grind in the manner he sees most fit?, then, as only tea offered, minor display of relief passing across Antonio's mobile face, thank you, four sugars please, today I need the energy! and fast forward, fast forward, as Kuper returns with tea cups, admiring colleague's broad back on approach, as wide as a butcher's rear entrance, certainly wide enough to get whole bodies of wriggling and squealing pigs in or out, he would place cups down, watch how steam rising from cups give slightly different hue to Antonio's perfectly organised features, like haze heat gives on particularly hot days when all you supremely desire, if you don't despise your own body, I do, or public displays of nudity in general, I do!, is to remove majority of clothes, pants on for decorum's sake, and run down burning sand and leap joyfully into surging sea.
    Like womb. 
    Rebirth. 
    Gay rebirth. 
    Happy ever after. 
    Two weeks previously Kuper had come across a photo of an a-hole, quite by chance, in an art gallery in the city of C____. Enticed inside by the bold-lettered poster, Body Parts; An Exploration of the Human Body, and having paid his entrance fee he had gone past the monstrously magnified black & white photos of single female boobs, left feet, kneecaps, elbows, until he had come to an image which had arrested him, Sphincter,Up Close and Personal With The Tube's End, which had quite taken him aback, both because he referred to his own shop as The Tube, and also because it brought to mind his boyhood, on his knees, in the playground bogs of O____ Methodist Primary School for boys where he had been chief rectum-checker, looking for those telltale scuff marks of the Schattenländer beast the boys were afraid of, which was rumoured to enter you from behind and then eat you from inside out, a fate which had, so the rumours went, happened to little Goran Prepski, who had been only two stone three pounds when he finally expired.
    Kuper had stood outside the church on the day of the funeral, sobbing, because Prepski was the first boy he had had a crush on and whose willy he had often dreamt of, like he now dreamt of Antonio's willy, giving it starring roles in certain Hollywood movie productions.
    Willy's Day Out.
    Howard's Willy. 
    The Celestine Willy. 
    But it was staring at that hole in the gallery that Kuper had made his decision. First chance he got, he would tell Antonio that he loved him.
    O, 
    Kuper has formed his mouth into an O, preparatory to making his declaration, this time I will do it, I won't let him, like Prepski, slip through my fingers, when he is stopped in his tracks by Antonio making a movement. 
    He is lifting his right hand.
    Most unusual…
    Kuper knows Antonio is left, not right, handed. More specifically than this he knows Antonio writes with his left hand, carries his umbrella, on the rare occasions he has one, in a fist formed from this hand, points emphatically with a finger from the same hand and even uses it to wipe his bum, this last intimate fact gleaned from a carefully planned experiment, noting over the course of a single week where the toilet roll was deposited on the floor of the staff toilet they share. 
    So what on earth is he doing with the right?
    Kuper leans forward, craning his neck while at the same time painfully abutting his stomach against the edge of his desk, and from this new and superior vantage point he watches first as Antonio erects a stubby forefinger and then as he plunges it with some force into his left nostril, grotesquely bulging out the skin. 
    So this is it. 
    It is nothing beautiful, and yet... The finger now is twisted, bent, extricated, and there on the end of it, crusty base with mucus-like tail is the almost alien-like life form of a single sticky bogey. 
    Kuper, expecting his colleague to dispose of it in a tissue or perhaps, this being Antonio, who can be a magnificent brute at times, to wipe it on the underside of his desk, lets out a silent puff of surprise when, seemingly without a gustatory thought, Antonio raises the bogey towards the waiting O-like orifice of his mouth and takes it within and swallows it whole. 
    The completion of this private act perhaps reminding him at last that he is not alone Antonio turns abruptly and says, just as if they had been conversing all along,  "Did you see it on the news this morning? How could I have forgotten to mention it? That bastard President of ours has passed a new law regarding immigrants. What next? A brand stamped on our asses?"
    Antonio swivels right around now, his chair being on a kind of pivot, and the full extent of his massive muscular body is revealed. 
    Back in the day, what… twenty-five years ago now?, his nickname at O____ Methodist Primary School for boys had been The Great Wall of China, shortened over time to just China and then, in the manner of these things, elongated again to Made in China, a tattoo of which the woman he referred to as his girlfriend Claudette de la Rivière was apparently encouraging him to have put, ironically, on the sole of his right foot.
    "What if the President came into our shop wanting a postcard?" he exclaimed. "I'd tell him to f right off. No!" And here Antonio gives one of his hefty thighs a pantomime smack. "What I'd do is I'd steer him towards the Wild West scenario. And then instead of blank bullets in the gun I'd put real ones in. Shoot his knob right off."
    "Shooting the President's knob off is hardly the subject matter for casual conversation," Kuper says, "and besides, we don't know who might be listening. What do they say? The walls have ears?"
     Looking carefully around, how can I talk of love now, he pushes himself up. 
    "I know, why don't we have a cup of tea?"
Their kitchen is in a tiny annex, its location hidden from the eyes of customers by a trompe l'oeil curtain, perfectly matching the wood-panelling of the wall on either side of it. 
    While Kuper is waiting for the kettle to boil his mind returns not to the President, Antonio was probably right, they might end up with brands on their asses, but instead to the recent intimate act he witnessed Antonio committing.
    "I wonder what it would taste like," he muses. "A bogey. I have never..." and he stops quite unable to complete the sentence. However, as he goes about the necessities needed in order to complete his tea making, taking cups out of the cupboard, opening the fridge for the milk and so on, the notion won't leave him. Wasn't there a boy at school, Yoshi Pevchenko, son of a former Russian ballerina now grown extremely heavy and resentful, who ate his own and charged five pence for the other boys to watch? That changing hands of money must have meant there was something desirable about the show, otherwise why part with money? Don't we live in a commercial oriented world in which consumers pay 'through the nose', he laughs silently at his own play on words, for that which they want to see?
    He pauses a moment thinking perhaps he has hit upon the crux of the matter. 'Desirable', that is the word he has used. And if it was desirable to those boys why shouldn't it be desirable to him? Must he always be forced to stand outside common society?
    Thus exonerated, momentarily, from self-abnegation and therefore free, momentarily, to go where his mind wants to take him, he leans his buttocks against the low counter, closes his eyes and and stays like this, silently contemplating, a bizarre sequence of events making a procession across his mind. He and Antonio are Victorian gentleman travelling on a paddle steamer to the hook of India. He, Kuper, is the inventor of a miraculous hair-restoring tonic and Antonio is his gofer / right hand man / chief tester. One night, mid-journey, there is a humungous storm, the wild waves and whipping winds of which result in the ship being splintered into matchsticks. The crew and the rest of the passengers are lost, either drowned or ripped apart (or both!) by the black-eyed sharks that have been dogging their journey so that only our intrepid duo remain, grasped together in the leaky maw of a rickety lifeboat. Countless days and countless nights pass, there is no food, no water, only some bottles of hair tonic to drink, ironic because it is quite poisonous when ingested! They are on the verge of death, both emaciated and desiccated. It is then that Antonio, in a kind of famished delirium, recalls a medical treatise he once read while engaged in some research for his boss. There was a certain Swedish doctor by the name of Hindleberg who discovered the nutritional value of the glycoproteins richly available in common nose waste. He rummages deeply in his nasal cavity and being supremely successful in his exploration he extends a finger towards his best friend and comrade. 'Here,' he says, 'eat this, it might just save your life. It is my very last one but I insist you have it. I believe in your hair tonic. You have made a truly significant discovery. You shouldn't be lost to the world.' 
    "Absolutely disgusting," mutters Kuper summoned from his reverie by the switch of the kettle flicking up with a crack. Then he goes further and says, "You are a freak. Eating bogies! Declaring love to men who have girlfriends! Whatever next?"
    He sloshes boiling water into the two cups he has prepared and, suddenly overcome by self-loathing, he lets out a low howl.  
    How lonely he feels! How unlovable he is! Pushing his palms into his eye sockets he lets the dark thoughts flood over him. There is desolation, exclusion, and something bigger than all of this; the massive pointlessness of his whole existence. From one small bogey to here! The truth is Antonio is never going to love him let alone feed him his bogies to save his life. He feels like screaming or striking out at something, the kettle! but then from the shop comes the tinkle of a bell and he is brought back to himself. The bell means they have a customer. He must pull himself together. 
 
Read Part 2: A stick of rock. Some nudity. A man dressed like a magician.