2. A stick of rock. Some nudity. A man dressed like a magician.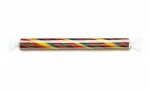 Thu, 29 Oct 2020
1 likes
(Read part 1: A cup of tea. A bogey. The President.)
And so pulled together the days pass and the days pass. Each morning, at exactly eight fifty-five, Antonio arrives, smokes his habitual Gauloises on the step, enters with a clatter and a nod, and takes his seat, ready for the official opening time of nine am. 
    Throughout the day, this is a shop after all, customers come, customers go and then at five o'clock Kuper goes and stands at the door, key in hand, ready to lock up after his colleague, Antonio, has stepped outside. They never say goodbye to each other, they are men of the world the pair of them and this is not their habit, but Kuper always watches Antonio down the street until he disappears out of sight around the corner. Then he locks the door and goes upstairs to his little two roomed apartment and waits for the next day to begin. 
    Although, due to recent troubling events, this is no longer without worry. 
    Just the previous Monday Nowicki, the baker, had been beaten up at four o'clock in the morning as he was opening up his establishment. The thugs, two brutes with fists as big as bubliks had left him with a broken left hand and a bruised eye. And they had pissed, side by side, on his mother, the name he gave to the yeast concoction, carefully tended over the years, which gave birth to all his breads. This was the same day that the graffiti had been found across the window of the Polish barbers. 
    Cut your losses and run.
    Then there was poor Miss Lefèvre, whose father was the owner of Patisserie Lefèvre famous throughout all of O____ for its pungent espressos and dainty beignets pommes, fallen from her fifth floor window. Neighbours had heard raised voices before the incident but her door was locked from the inside, no one found in the flat except her dog, Napoleon, who was now inconsolable.
    Was it all connected?
    No. He is being stupid. Putting two and two together to equal five.
    Or even six. 
    It is simply that he dislikes the dark nights, the covered moon, the sound of tiny mice feet behind the skirting boards. It elevates the child in him and all that that entailed.
    Going over to the bookshelf that Kuper selects one, The Engagement, (an engagement! what possibilities!), and takes it back to the table where the remains of his dinner still lay, seeds from a tomato, a few flecks of tinned tuna, the dregs of wine in a teacup. He turns to first page of the book but the words dance and skip like monkeys on a leash. 
    The truth is he does have something on his mind. 
    That day The Tube had been visited by a young peachy-white punchy lad from the neighbouring city of C____. He had paid his money, aggressively slapping the notes down on the desk, and then removing all his clothes, had insisted he do the whole of the video postcard in the nuddy, one of their stock routines, 'Greetings from the lovely town of O____. Having fun!', while standing there completely motionless, one hand raised in the presidential salute, the other holding a thick stick of local rock in a suggestive fashion in front of his private parts. 
    What was particularly troubling, and Kuper was not concerned about the nudity, he could look at nude young men all day if he put his mind to it, was that they weren't even in full season yet and this was the forth such scenario they had had, each one exactly the same right down to the colour and thickness of the rock, a fluorescent pink Jumbo!, sold exclusively at Top Rock Emporium down at the pier, free if you could get it in your mouth as far as the paper label with the picture of the cliffs on. 
    He supposed it was some kind of internet sensation, like putting a finger up your bum and then putting into the nostril of a sleeping friend, but in it he sensed something sinister, the nature of which was a slight to the town of O____. 
    Something rattles against the window outside and a shiver goes down his back. If only he had his old teddy, Frederico the Great. Frederico had always made him feel better, took well to semen stains, but then foster-father had found out, screamed blue murder and, pulling off Frederico's head and arms, had blasted all the separate parts in the microwave. 
    Was it Kuper's fault the metal buttons and eyes hadn't been removed? That the microwave had exploded?
    His bum had been sore that night and for the following week he had only been able to sleep on his front. 
    "What time is it?" he mutters to himself and looks at his watch. "Oh blast. It is still too early for a sensible man to go to bed."
    Jumping up he rushes over to the little mirror that he keeps affixed above his bookcase. He leans towards it pushing frantically at his hair. 
    Is he going bald? He has worked out, using a precise system he has developed, that if he loses his hair he has twenty-five per cent chance of finding love. Some women, he has calculated, like bald men, but men on the other hand do not like bald men but call them by cruel names, baldy and slap head being just two of them. 
    Understanding that exercise is a well-known preventative to early onset hair loss he walks quickly into the bedroom and back again. 
    "What an idiot? Look at me. I am like a fly that has failed to get stuck in the ointment."
    He sits back down at his table, picks up The Engagement and reads two pages before throwing it down in anger. The words now are like a shoal of piranha nibbling at his toes. Even if he did get into bed he is sure that he won't sleep.
    He has always been prone to nightmares. 
    A recurring one concerns the boys who tormented him at O____'s Methodist School for Boys, Gulbis and all his seedy cohorts. In the dream they would sprout arms from unusual places, or teeth would appear on their bodies and give enticing Hollywood smiles. And they would have any number of bumholes, so many that he would wake up sweating and crying out loud. 
    More recently his dreams have turned to Antonio. In them he appears more often as not as a kind of superhero, hopping between lampposts while keeping an eye on old ladies and their purses, his identity disguised by a bright blue mask he puts secretly on in the back room of The Tube. But, and this is the thing that scares him, the dreams always end with Antonio's identity being found out and then he has to leave The Tube and go into hiding somewhere. 
    Kuper looks at his watch. The hands on it have hardly moved. Maybe time has stood still. 
    "People are always writing about time standing still in books and, what is that saying, no smoke without fire?"
    There would be benefits certainly. His hair would not fall out, but by the same token, morning would never come and if morning never came and then neither would Antonio. 
    "So I need to control when it happens. With a discreet device to start and stop it. Or a keyword. Then tomorrow at nine fifteen Bob would be my uncle."
    He contemplates this scenario for some minutes and can see only that it will serve him well. 
    Two weeks before Antonio had revealed to him in a rare moment of intimacy that Claudette de la Rivière, nightclub singer, was soon going to hang up her microphone. She was pregnant. She was going to be the mother of his child. 
    "Well imagine if she's pregnant forever. That's what would happen if time stood still and I don't think Antonio would put up with that forever. He gets annoyed when he is waiting for a bus. And if it was at nine fifteen then Antonio would never go home."
    He jumps up from the table and in a burst of energy gathers up the dirty pots and takes them to the small kitchenette. The water heater above the sink rattles quite alarmingly as it disgorges hot water.
    "Oh nuts you're an idiot!"
    Kuper stops washing, his hands remaining plunged in the water. 
    "What if I am unable to start time again. I could really land myself in a mess."
    For at nine fifteen that very morning he had undergone a very unpleasant experience.
    "And I wouldn't want that to last forever!"
    Where had Antonio been? In the toilet for his morning ablution? Gone out for doughnuts? Yes, if it was a Tuesday then he had certainly gone out for doughnuts, Slavko's Doughnuts 'R' Us always doing a two for one deal on Tuesdays. Certainly he had been alone when the door had burst open, sending the bell into a frenzy, and a tall man had been standing there.
    Like a stage magician the man was dressed in a top hat. It wouldn't be the first time. Week in week out they came in the high season, booked to perform at the end of pier electric ballroom. Arrogant as all seven days of the week most of them, with wide sleeves on their plush overcoats, all the better to hide their scrofulous rabbits in. Or a sailor? When Kuper was a child he would prey for a big ship to put into port for then the sailors would swarm through the town like locusts. How he had used to admire them from afar. Lithe, nut brown and erotic as chimpanzees, their eyes searching out, or so he believed in his youthful fantasies, a distant island where X marked the spot. 
    "Papers," the man had said. "Under the President's orders I am required to see your papers."
    And it was then that Kuper had seen a whole tribe of the men, similarly dressed going from door to door along the street. 
    Papers, papers, we want to see your papers. 
    And Kuper's thoughts had turned to Medieval World of Adventures down at the seafront. Busier in the Summer months than at other times of year it was rumoured that the itinerant staff there were paid under the counter, and what about the cockle pickers, Chinese mostly, down on the mudflats?, and those cheap tenements in the Boondocks, Sarajevo-by-the-Sea they called it, jam packed full of tailors, candlestick makers, vintners and Lord knew what else, do you know where I might find, on the cheap….
    Taking a deep sigh Kuper goes back to his table, almost clear now. On other nights as lonely as this one he has begun to imagine people. They have been so real he has been able to see their shadows as they pass before the light, feel the movement of air on his cheek and he has wanted to ask for forgiveness but he doesn't know what he has done. 
    He looks again at his watch and, making a fist of his other hand shakes it violently in the air, "This cannot go on. I must be firm."
    And it is then that he hears the noise. 
    Could it actually be? 
    He grips tightly on the tweezers he has found in his hand, the ones he uses to pluck at his nasal hair, making his eyes water, and which he must have unconsciously picked up, to use as a weapon?, and cocks his head to one side. 
    Yes, there it is again. 
    Most definitely there is someone hammering at the door downstairs. 
In the hours since he has ascended the stairs from the shop below the weather has turned. Caught up as he has been in his endeavours he has been only half aware of the rain hitting the windows but now as he comes through the trompe l'oeil curtain and onto the shop floor he notices the rivulets of water running down the panes of the shop door. This makes it more than usually difficult to see through them, so the figure outside is visible only as a distorted image through the glass and he lets out a yelp of fright. 
    Kuper puts a hand out to steady himself, is on the point of shuffling backwards and going back up the stairs when a face, half covered by over-sized aviator sunglasses and the upright fur collar of a pilot's jacket, looming directly behind one of the panes causes him to take a sharp breath. 
    It is Antonio. 
    Hasn't he dreamt of a scenario like this? Claudette found out to be a whore. Sleeping with the manager of Les Trois Mousquetaires, the nightclub where she nightly sang soaring torch songs. The baby this manager's, likely to come out with olive skin, a little moustache, and later in life would walk with an ivory cane, just like its father. An argument ensues. Pots are thrown. A flight. 
    Swiftly retrieving the key from his pocket Kuper opens the door and his colleague comes stumbling in, shedding a spray of water droplets onto the floor.
    "Were going to leave me out there all the blasted night? Didn't you hear me knocking?"
    Kuper opens his mouth, closes it again. Of course he heard the knocking. After all, hasn't he just unlocked the door? 
    "It's a devil of a night to be out and about. Claudette all well is she?"
    Kuper has always known Antonio as a steady man, even when customers started to argue about the turn out of their postcards, the scenario is called The Maltese Falcon yet I look nothing like Bogart!, but now his face takes on a contorted mien. 
    "I have been unable to return home. There's a…."  
    Antonio forms a quick shape with his hand, sighs, then doubles it and Kuper feels a shiver go down his spine. 
 
Image from Pixabay  
Read Part 3. Nancy the elephant. A mime artiste. The wall.