Hooray for the Circus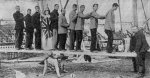 Thu, 27 Apr 2017
Oop-la and Alley Oop!
Billy Smart has returned to our screens,
the ringmaster dressed as John Bull-
shit from distressed lions
and homesick elephants
litters the floor of the house.
Roll up, roll up!
See Theresa on the tightrope!
"She has the legs for a leotard,"
says the circus correspondent
of the Daily Post-
factual newspaper.
Chipperfield's will come to town,
the cages are empty - there are only
clowns and acrobats but
the people want animals
that they fear in cages,
while safe under the big top.
So Billy Smart's will get the vote,
Chipperfield's is finished.
There'll be no Barnum and Bailey
coalition, just a confederacy of clowns
and animal acts cheered on
by the baying mob.
We'll have our circus,
but there may not be any bread.