Linz Realschule Old Boys, Class of 1905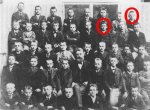 Sun, 11 Dec 2016
I know that hot-eyed boy,
he plays the sports, plays the games,
participates, as I do not, as I will not,
as I cannot.
The boy is an artless lump,
his artisan vowels, his artistic bent
aggravate us, as he must know, as he will know,
as he should know.
And yet,
there is something,
like that which glowed
in Gustav's eyes,
while he painted my sister
in her wedding dress
unable to resist
his gaudy touches.
Ach! I invent,
I imagine,
I am Luki Ludwig,
there are things whereof
I cannot speak.
You'll know that hot-eyed boy,
he plays the Volk, he plays the Land,
his party hates, as I did not, as I would not,
as I could not.
The boy is a populist,
his pop-eyed rage, his popular rants
proculcate them, as they must know, as they will know
as they should not.
He was a boy, I was too,
he was the giant
among his classmates
by dint of being two
years older.
They say I did not notice him.
The things whereof I cannot speak,
thereof I should be silent.
Footnote: It is a matter of record that Hitler and Wittgenstein attended the same school in Linz, Austria in 1904/05. There is no evidence that they met. (Despite the photo).