Obverse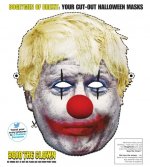 Mon, 26 Aug 2019
1 likes
Charming eccentricity
morphs into frothing madness
through the prism of politics.
Each vote polarises more.
From the foolishness of Boaty Mac
via flirtation with Farage
to the referendumb.
Lowest common denominator
campaigning:
"They won't understand the arguments,
we'll just give them slogans
and we'll put them on buses!
Let's show it to everyone
seven times: lucky seven
means they'll buy!
They call us Brexiteers
but we are marketeers,
marketing for all we are worth
though the voters may not think that much."
Bojo the Clown as ringmaster?
It has a certain, dissonant ring,
of course.
As cousin Trumpo offers us
the chance to imitate
their worst.
We do.
We complain
"We did not cross the box
for this buffoon, this loon
was chosen by the true blue
in the face, reactionary
hordes in Rotary, Oddfellow
W.I and Freemasonic meetings".
But we did,
when we did not
cross any box.
When we said,
"What's the point?
Not another fucking election!"
When we behaved like Brenda
and marked registration forms
"return to sender".
As we have sown
so shall we reap.