The Visitable Past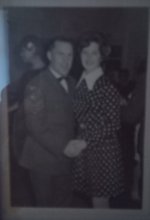 Wed, 18 Nov 2020
2 likes
I inoculate myself with photographs
of once-vibrant parents
younger than I am now.
These almost banish the memory
of my father's husk;
immobile and staring
in an amyloid prison
papered with photographs
of the strangers called family.
For it is my mother's turn
to feel the slipping
of words and time.
We conduct shouted phone calls weekly;
weakly understood, her deafness
thickens the inexorable fog.
Still, a clandestine visit
is occasionally made
but compassion is no visa
to cross plague-shut borders
where once none existed.
I must go,
while there is yet
a visitable past,
before she moves
to another country
I cannot reach by phone.
*The blurring of the accompanying image is deliberate.